Young People Make Historical Film
At the end of April, the DTU's Silver Swallows Studio launched their first historical film project. "The First Swallows", part of the Vietnam Air War series, recreates the fierce battle between the Vietnam People's Air Force (VPAF) and the US Air Force (USAF) for Thanh Hoa Bridge, on April 4, 1965.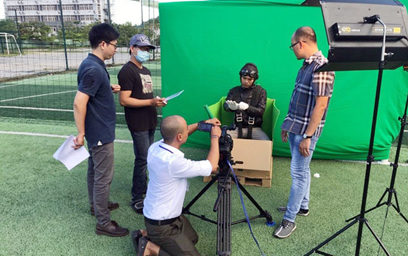 The film crew recreates the scene
The First Swallows mostly concerns the violent USAF raids on North Vietnam in their effort to block aid from reaching the National Liberation Front for South Vietnam. The Vietnamese air force fought bravely right from the very first encounter above the Thanh Hoa Bridge.
Project manager, Mr. Nguyen Van Truong Son, explained that the film studio had been planning to work on the project earlier, encountered several difficulties, but in June 2018 finally began production.
"The film is neither character-driven, dramatic nor composition-based. Rather, it follows witnesses retelling their stories and depicts their interpretations. We went through many phases before completing the project, researching information, selecting scenes and creating a storyboard, scriptwriting and finding the right cast. The hard part was finding actors to play the Vietnamese pilots," Truong Son explained. "Due to our limited resources, our studio members actually took those roles themselves."
Thai Bao Long, a member of the crew, explained that the team are amateur filmmakers, not using the most advanced equipment. The pilots can be seen in their cockpits, navigating their aircraft and fighting together spectacularly during the battle. If fact, they were actors sitting in cardboard boxes. The lighting in the studio was insufficient, so the boxes and actors were transported to a football field in 40°C temperatures for realistic lighting conditions. "The actors wore two or three layers of clothes, including a leather vest," said Thai Bao Long. "After filming in the heat, they all fell ill."
The Silver Swallows Studio recreated the scenes in 3D, interspersed with accounts from witnesses, showing a squadron of four MiG-17 fighter jets with Tran Hanh leading Pham Giay, Le Minh Huan and Tran Nguyen Nam. Only Tran Hanh survived after he shot down an American plane. He then attempted to save his MiG-17 at any cost by making a belly-landing in a field.
Truong Son said that the methods used in making the film were actually quite new and difficult, but have the added advantage of being more faithful and historically accurate, based on eyewitness accounts. The blend of documentary and 3D technology photo-reportage makes an historical film more amenable and inspiring to younger generations.
DTU Provost, Dr. Le Nguyen Bao, had already seen many 3D movies about the war with the US Air Force whilst studying in America. He observed that they only showed American planes shooting down Vietnamese ones. "This aroused my national pride and I started nurturing the dream of making a movie about the VPAF when I returned."
The film required a high degree of historical authenticity, forcing the team to spend much time on research. M. Raphael Didierjean, the French scriptwriter, had to pore through USAF flying logs in English which documented the battle. "This task was not at all as easy as I had initially imagined," said Dr. Le Nguyen Bao. "During the most strenuous moments, I decided to search for another battle to cover, but M. Didierjean encouraged us to continue researching every minute detail. This is one of the reasons why we needed five years to complete the film."
Veteran pilot Ho Van Quy of the 921st Fighter Regiment MIG-17 squadron added, "I have seen many other expert documentaries about the VPAF and the air battle to protect the Thanh Hoa Bridge 55 years ago, produced by the government and others. However, this was the first one I had seen about my own squadron, produced by young filmmakers, which surprised and touched me. This is a very important film, and I believe that the younger generations still care greatly about the history of the war and take much pride our accomplishments."
(Media Center)