DTU Is the Second University in Vietnam to Be ABET accredited
On August 27, ABET - the American-based Accreditation Board for Engineering and Technology, announced that the DTU Networking Engineering and Management Information System programs received ABET accreditation. DTU is the second university in Vietnam to be accredited, in addition to the Ho Chi Minh city University of Technology, in 2014. Cao Thang Technical College was also accredited in 2018 but DTU is the only private university in Vietnam accredited so far.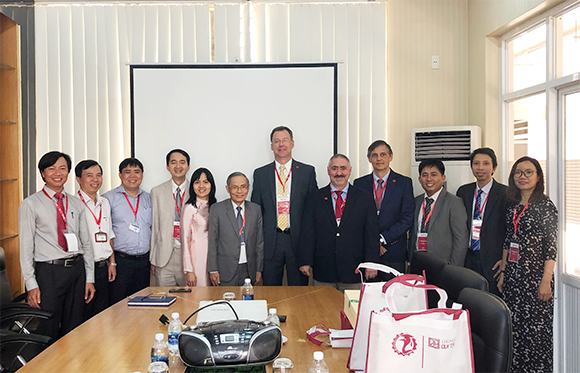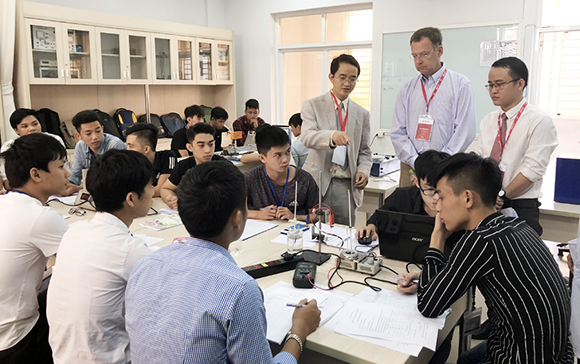 ABET evaluators at DTU
National and international accreditation has recently become a trend among Vietnamese universities in order to offer students the most advanced academic programs. ABET is recognized worldwide for the accreditation of foreign institutions teaching technology and engineering. ABET was founded in 1932 and consists of four accreditation commissions who set the standards for specific program areas and degree levels:
• Applied and Natural Science Accreditation Commission (ANSAC)
• Computing Accreditation Commission (CAC)
• Engineering Accreditation Commission (EAC)
• Engineering Technology Accreditation Commission (ETAC)
The 2,200 ABET expert come from 35 organizations, such as ASHRAE, SPE and SME, or from industry, academia or government. Up to now, 4,005 programs at 793 colleges and universities in 32 countries have received ABET accreditation. Many well-known universities around the world have received ABET accreditation, including:
•
The University of Applied Science Upper Austria
•
Mody University of Science and Technology in India
•
AMA Computer University in the Philippines
•
The Massachusetts Institute of Technology (MIT)
•
University of California, Berkeley (UCB)
•
Carnegie Mellon University (CMU)
•
Johns Hopkins University
In October 2018, an ABET evaluation team visited DTU for three days to prepare for the official evaluation in 2019, when ABET accredited two programs, Networking Engineering and Management Information Systems, based on 9 criteria:
•
Educational Program Objectives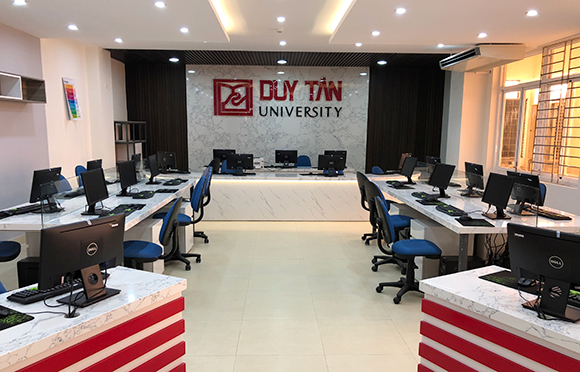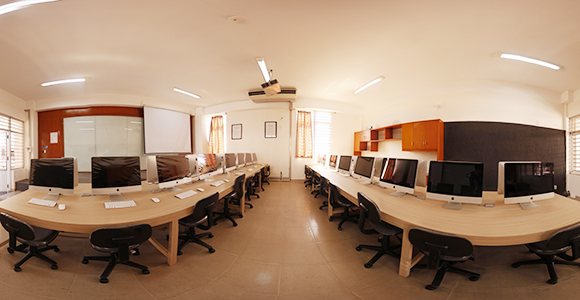 State-of-the-art DTU computer systems
After their objective work, ABET officially recognized the two DTU programs of Network Engineering and Management Information Systems meet ABET accreditation standards, at the highest level of six years, until September 30, 2025.
When the accreditation visit ended in October last year, the Network Engineering program already met ABET accreditation criteria, while the Management Information Systems program needed a little more time to deal with some insignificant shortcomings.
Both programs met 100% of the ABET Computing Accreditation Commission criteria. In preparation, DTU had spent 6 years assembling highly-qualified teams of lecturers, expanding international collaboration to enhance the quality of education and investing in modern teaching facilities.
Dr. Le Nguyen Bao, DTU Provost, said: "Over the past 8 years, DTU has gained noteworthy achievements in both education and research. DTU was ranked fourth on the list of the top 10 Vietnamese universities and research institutions, ranked by the number of papers published in international ISI or Scopus indexed journals in 2018 and the first half of 2019. DTU has meanwhile made sustained efforts to improve the quality of education and achieve national and international accreditation. The ABET accreditation coincides with DTU's 25th anniversary and serves as a milestone on our journey to continue to enhance the quality of education at our university".
Dr. Tran Nhat Tan, Director of the DTU Quality Assurance Center, said: "ABET accreditation is globally-recognized. Our accreditation will make a great contribution to realizing DTU goals of internationalizing the Technology and Engineering programs in general, and IT programs in particular. ABET accreditation means that students, employers and the community can be confident that DTU is graduating true professionals, ready to enter the global workforce with accreditation recognized by American universities and companies. It also gives us a great advantage enrolling foreign students and in lecturer and student exchanges with universities worldwide. As a result, DTU is quickly becoming recognized as a prestigious institution in field of Engineering and Information Technology, in Vietnam and the South East Asia region, satisfying the growing demand from FDI companies located in Vietnam."
Hero of Labor, Distinguished Teacher Le Cong Co, DTU President, said that the university would continue to seek accreditation in other Technology and Engineering programs, in accordance with ABET international standards.
(Media Center)