DTU Meets with Journalists on the 94th Anniversary of Vietnam's Revolutionary Press
On the afternoon of June 19th, DTU met journalists from press agencies in Danang city to celebrate the 94th anniversary of Vietnam's Revolutionary Press Day and thank them for their support to DTU over the past twenty five years.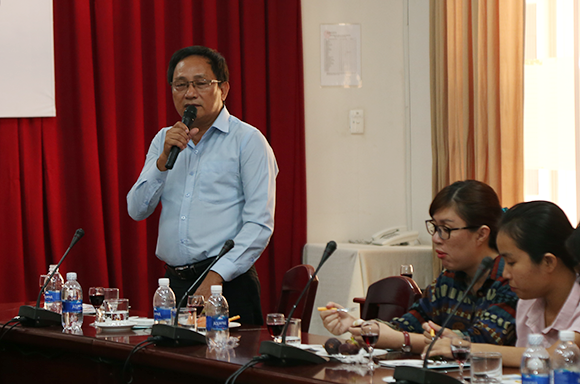 Journalist Nguyen Chung Anh from Danang Newspaper speaks at the get-together
Hero of Labor and Distinguished Teacher Le Cong Co, DTU President, said: "During 25 years of development, DTU has always striven to be worthy of the trust that the state and society place on us. Throughout this journey, the local press has provided us with a lot of support in publicizing DTU to the community. Also, the very constructive suggestions from the media have encouraged DTU to steadily improve our quality of education to achieve our goals."
On behalf of DTU Board of Provosts, DTU lecturers and staff, DTU Vice-Provost Dr. Vo Thanh Hai congratulated the journalists who have accompanied DTU through its 25 years of development. He gave a brief overview of the teaching and research achievements and awards DTU gained in 2019, including 608 publications in ISI-indexed journals in the first half of 2019; DTU students won a Consolation prize at the 2019 STR Asia Pacific Market Study competition in Hong Kong; DTU released the First Swallows documenary; DTU students won many second and third prizes at the 2019 National Mathematics and Physics Olympiad, and others.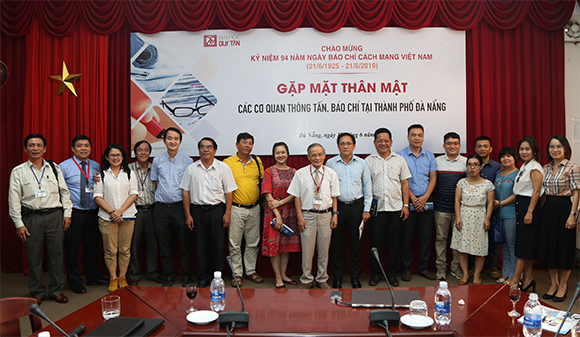 Journalists and DTU representatives pose for a picture
On this occasion, Journalist Nguyen Chung Anh from the Danang Newspaper, Journalist. Nguyen Thanh Binh from the Quang Nam Newspaper and Journalist. Phan Bui Bao Thy from the Education & Era Newspaper discussed with DTU about communications methods to bring the DTU brand closer to prospective students and their parents nationwide. They also expressed their hope that DTU would gain even more impressive achievements in the near future, and support journalists in their professional activities to provide society with regular updates.
(Media Center)