A Reunion for "Those Who Lived in Beautiful Times"
The previously young men and women, students, intellectuals and artists of the Central Vietnamese patriotic movement of 1954–1975 got together at DTU on March 30, to reminisce about their "beautiful times". They had previously met the week before in Hue for the traditional B14 and Hue Urban Movement reunions. The war has now receded far into the past, but the reverberation of those bloody times is still felt in the hearts of the "movement people".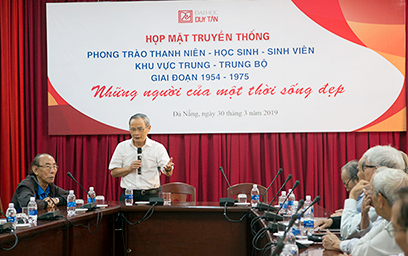 Distinguished Teacher and Hero of Labor, Le Cong Co, talks about his memories and feelings
The joyful and grateful "movement people" came to DTU from Danang, Quang Nam and Quang Ngai. They shook hands, hugged happily and smiled tearfully after years of separation from their compatriots, who they had fought alongside of and shared good and bad times with. With the passing of time, the once lively generation of Central Vietnamese youth is now growing old, making room for a new, modern and progressive generation. Despite their advanced ages today, they will always remember their youth, when they devoted heart and soul to the urban movement of South Vietnam and to the historical victory of April 30, 1975.
"Today is a really happy day as we, friends and comrades of the movement of old days, can again sit together and reminisce about the long journey we went through," said Distinguished Teacher Le Cong Co. "The war caused so much loss and pain and so many people fell when still far too young. I deeply understand all this hurt and, whether in war or in peace, I will continue making my devoted contributions for the rest of my days. Wealth, status and renown are all ephemeral, and in this life we must all do something useful. I retired at 52, established DTU, and we now have twenty thousand students. The lecturers at DTU always do their utmost to teach today's young people about the personal qualities and morals required to contribute to building a better future for Vietnam."
Time passes in the blink of an eye and the true "movement people" are now aged from 65 to 80. Their minds are still lucid however and they still embrace their youthful enthusiasm. Distinguished Teacher Le Cong Co proposed to create a Communication Board in each province, which would maintain information on the people who struggled for the movement. Sick people could then be visited and those with difficulties offered support. Furthermore, the provincial Communication Boards would be able to jointly organize some interesting activities for them.
Conversations died down and emotions welled up when the heroic revolutionary songs started playing, slowly bringing out a variety of memories of the war years, filled with hardship and struggle. They were all transported back to the past, to the carefree and courageous days of their youth, when they fought together, ready to spill their own blood. These memories have been regenerated through songs and also in the writings of the "movement people". From the arduous days of war, an exceptional group of young intellectuals evolved. These include Nhat Chi Mai, Nguyen Van Troi, Vo Thi Thang, Nguyen Tam Vang, Tran Quang Long, Nguyen Cam, Le Van Tho, and the legendary Le Phuong Thao, another name for Mr. Le Cong Co, the original Chairperson of the Student Federation for the Liberation of Central Vietnam, who all rushed into battle to steadfastly fight under a rain of bullets and bombs for the restoration of peace to our country.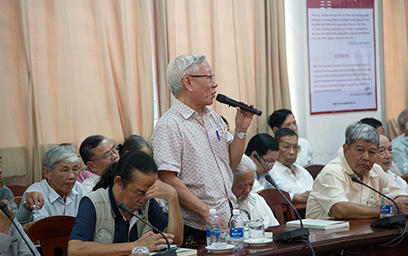 Mr. Do Phap, Director of the Do Phap law firm
"This meeting is a precious opportunity for us to look back on our past and remember the comrades who perished on the battlefield," said Mr. Do Phap. "We will express our brotherly and sisterly love for each until the end of our lives. Even though we are growing old, I still believe that the fire of our previous enthusiasm and youthful aspirations is still burning in the hearts of all revolutionaries."
Although the traditional meeting of the people of the urban movement came to an end, it will resound forever in the hearts of the participants, whenever they look back on the liberation of South Vietnam and the reunification of Vietnam on April 30, 1975. The beautiful times of our fathers will be forever part of our history, passing on the flame of desire and enthusiasm to all future generations.
(Media Center)