Danang Party Secretary Visits DTU
On August 25, Mr. Truong Quang Nghia, a Party Central Committee Member and Danang Party Secretary, had a meeting at DTU to learn more about a local private university with highly developed education and research. Ways of alleviating future problems were also discussed. Mr. Dang Viet Dung, a City Party Committee member and Vice-Chairman of the Danang People's Committee and heads of other government departments also attended.
Party Central Committee Member and Danang Party Secretary, Mr. Truong Quang Nghia
DTU Vice-Provost Dr. Hai gave an overview on the evolution and development of DTU and noteworthy achievements in many areas. The university maintains international partnerships with well-known foreign universities, particularly in the USA, to improve the standard of education, send students abroad and offer On-Site Study-Abroad programs. One thousand foreign lecturers have taught at DTU and 273 DTU lecturers have gone abroad for training. Many DTU students are studying overseas and DTU also welcomes foreign students. DTU has promoted increased research activity over the past five years, with 1,000 and 50 papers published in ISI and Scopus related journals respectively. Many other projects have been sponsored by the government, provinces or the university itself. Meanwhile, the university has signed agreements with 250 businesses and works with many other local organizations to help students in their training and career preparation.
The delegation praised the success of the DTU programs. The DTU Deputy-Director of the Department of Science and Technology, Ms. Vu Thi Bich Hau, noted that DTU has made great strides in research, as seen in the increased number of official publications. The university has also proposed several research projects to the city of Danang, and has been selected to work on many of them. DTU is now advanced in fundamental research and is developing applied research in several new fields. However, in the near future, the university believes it should focus even more on general community projects, in medicine, the environment and disaster prevention, for example, in conjunction with city researchers.
Mr. Pham Xuan Thu, a Hai Chau District Committee member, remarked on how DTU lecturers and students work together to accomplish their mission of teaching and learning in a high-quality educational and research environment and, at the same time, also participate strongly in local extramural activities. Recently, they visited the Hai Chau district to design mural paintings about Danang and developed some ideas for startup businesses to alleviate youth poverty. Over the years, DTU has always maintained reputation in the community.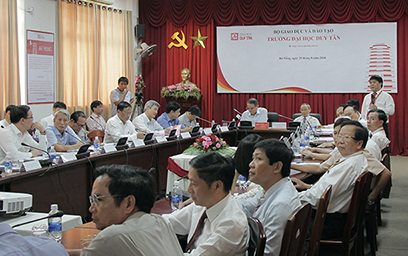 The meeting
DTU Vice-Provost Vu Xuan Quang recounted how DTU was founded by Hero of Labor Distinguished Teacher Le Cong Co, a dedicated revolutionary. The people of Danang trusted Distinguished Teacher Le Cong Co implicitly and elected him as their National Assembly representative and have been sending their children to DTU in large numbers, accounting for 30% of school's total student numbers. DTU graduates are key to spurring the development of Danang so DTU must always be supported and financed to continue developing a professional city workforce.
Distinguished Teacher Le Cong Co emphasized that DTU educates students from the Danang region and finds them careers and meanwhile conducts significant research. Projects include: "Research into hotel wastewater", "Research into seawater pollution", "Using composting worms to treat domestic waste", "Using microalgae to treat wastewater from the textile industry and aquaculture" and others, in order to find ways of creating a cleaner Danang environment. The major objective of DTU at present is a comprehensive development program in all sectors to reach the goal of entering the list of the top 300 Asian universities. In this way, DTU is also boosting the education of its students to the benefit of Vietnam. However, the university still has difficulties, such as the construction of new buildings and affording to employ the very best teachers. This is why DTU continues to depend on strong governmental support.
Mr. Dang Viet Dung, a City Party Committee member and Vice-Chairman of the Danang People's Committee, said that DTU's hopes of entering the top 300 Asian universities should be the foundation to improve its prestige even further. More than ever, the university should exploit its strengths in all sectors and be even more active in preparing graduates to work locally to propose and execute projects and offer advice.
To conclude the meeting, Mr. Truong Quang Nghia said that, although DTU was founded in difficult times, the valor of its founder Distinguished Teacher Le Cong Co and the solidarity of the staff and lecturers have made DTU what it is today. With 20 thousand students a year, DTU has graduated professionals who have already contributed to the rapid development of Danang. These are currently impressive statistics for a private university and very few private universities publish in ISI index journals like DTU. The University requested the city to quickly implement policies to help private universities. Among these should be support for the development of 28 hectares on Hoang Van Thai street, in the Hoa Nhon commune of the Hoa Vang district, in addition to the other new training locations.
Mr. Truong Quang Nghia stressed that the DTU development strategy university should not be restricted in its ability to compete with public universities. DTU should continue to try to become the best educational institution in Vietnam by modelling itself on the already established international-standard partnerships and shared programs. He also encouraged DTU to establish even more international collaborations in the near future, not only to compete with public schools but also to establish a worldwide reputation. At the same time, DTU should also focus even more on education and research in sectors where the city needs professional workers, in Hospitality, Environment, in Logistics, and the training of industrial workers in local high tech and Information Technology parks.
(Media Center)