DTU and Aspirations for Reform
Hero of Labor and Distinguished Teacher Le Cong Co, DTU President and Provost, was interviewed by the Quang Nam News about his career and DTU's future aspirations. "When I was 18, I started teaching at high school but at 22 I left home to join the resistance, hoping secretly that, if I were to survive the war, I would resume working as a teacher. I believe that education is the cornerstone of civilization, and, with a good educational system, any country will rapidly develop. After that, the vision of a school with modern and effective teaching, steeped in humanist values, has coalesced in my mind until finally, in 1985, by coincidence, I met Professor Tran Van Tho who had just come back from Japan and the outline of a project to open a new school was drawn up. However, creating a private university in Vietnam at that time was impossible."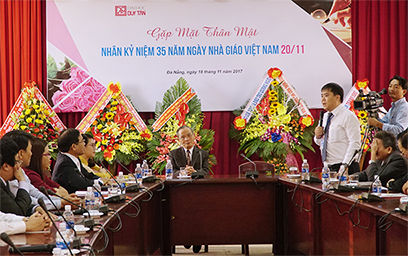 Distinguished Teacher Le Cong Co (center) at Vietnamese Teachers' Day
Reform, starting with the name
- Why did you name the university Duy Tan?
- Distinguished Teacher Le Cong Co: In 1992, I retired at the age of 51 and started forming a committee to found a private university in Central Vietnam. At that time, the spirit of reformation, which sprung from the 6th National Party Congress, was beginning to permeate everyday life. On September 15, 1993, the Minister of Education and Training, Tran Hong Quan, authorized the establishment of a founding committee, comprised of 24 members. At the time, however, there was no legal framework whatsoever, making the creation of the school very difficult. In addition, the authorities of Quang Nam–Danang disagreed with the concept. In the midst of the turmoil, luck finally smiled on us and, in March 1994, the government issued its first statute on private universities. The new Quang Nam-Danang Party Secretary, Mai Thuc Lan, personally oversaw the proposal to establish the Private University of Central Vietnam, which was then approved and submitted to Hanoi. The Minister of Education and Training suggested that the proposed name should be changed because more private universities might be founded in Central Vietnam in the future.
From quality to eminence
After renting accommodation for several years, DTU now has spacious classrooms and modern lecture halls on five campuses, with a total area of 70,000 m². The number of staff, lecturers and other employees has grown from a few dozen to 1,100 people today. Among the 750 lecturers, 19.5% hold PhDs or professorial titles, compared to the national average of 15%, and 72% have at least a Master's degree. These impressive numbers speak for themselves.
While trying to come up with a new name, my wife, Mrs. Nguyen Thi Loc, who was also a member of the founding committee, proposed the name Duy Tan Private University. The Emperor Meiji made Japan powerful because of the Restoration (Duy Tan or Ishi) movement. A Duy Tan movement also started in Quang Nam in 1906 and spread across the entire country, also aimed at reform. In 1993, the Party also had a reform policy, making Duy Tan University a very appropriate name, as Duy Tan is the aspiration for reform.
- After 23 years of development, has the Duy Tan dream come true?
- Distinguished Teacher Le Cong Co: From that intense initial determination for reform, we created the DTU of today. What does that mean? Initially the Ministry of Education and Training allowed only 550 enrollments a year, but today we have 5,500, a tenfold increase. We started out by offering only 4 majors, but now we now have 21 majors with 44 minors. From offering only academic Bachelor's degrees, we expanded by adding associate Bachelor's degrees and vocational training, and, in 2009, the government allowed us to offer postgraduate education. Step by step, DTU has been pushing education quality upwards, by establishing long-term collaborations with business, in order to find meaningful employment for students, because DTU's motto is "We Do Everything for Student Rights and Future Careers".
Education and research linked with science and technology
- Distinguished Teacher Le Cong Co: In line with our principles and objectives, based on our humanistic and modern educational systems, DTU has graduated 3 groups of PhDs and 14 groups of Masters, totaling 1,200 overall. Also 23 groups of academic and associate Bachelor's, totaling 70,000, and 6 groups of vocational Bachelors of 1,400 students. DTU offers diversified academic , covering information technology, business administration, foreign languages, hospitality and tourism, electronics, construction, architecture, medicine, pharmacy, and the social sciences - humanities and journalism, international relations, culture and tourism, and economic law. With 18 graduated cohorts, DTU has provided the job market, mainly of Danang and the surrounding Central Vietnam and Central Highlands, with over 55 thousand qualified workers (PhDs, engineers, architects, Bachelors…), benefiting the state trillions of VND through the training of high-quality workers. DTU graduates easily find employment; in particular, 100% of Software Engineering students already have a job on their graduation.
A highlight is that DTU made a breakthrough with its International partnerships with big US universities proved to be a highlight of our success. First is Carnegie Mellon University, one of the four leading universities in the US in IT training. Next are Penn State, California, and Purdue University. These transferred 14 programs to DTU, and DTU lecturers made over 400 visits to the US for training, which has made the international training at DTU very successful.
- Many people believe that Vietnamese universities offer an excellent basic education but are lagging behind in research, because they have nothing to model themselves on. What is the situation at DTU?
- Distinguished Teacher Le Cong Co: In 2009, in our first MoET accreditation, DTU scored zero in research. But from then, we have been developing research to become the mainstay of a university education in Vietnam. The university has been awarded 25 Nafosted projects and has published over 650 international ISI-listed papers. According to the MoET's top 20 of Vietnamese universities ranked by number of ISI papers in 2016–2017, DTU comes at a fourth place (after the National University Hanoi, the National University Ho Chi Minh City, and Ton Duc Thang University) with 331 ISI publications, which is double the number of ISI publications from Hue University (74, 10th place) and the University of Danang (72, 11th position) combined, and makes DTU the only nonpublic university to enter the ranking.
We have an impressive research policy, pays fair wages, and developed an environment to attract young talent from Vietnam and abroad. As a result, at the start of our 23rd academic year, the Board of Trustees has set a goal to enter the list of the top 300 Asian universities by 2022. This goal is the "Duy Tan Dream".
Thank you very much Professor. I hope that you will be able to realize this "Duy Tan Dream"!
(Media Center)