Finance and Banking Alumni Reunite at DTU
After ten years, on July 29th, over thirty 2007 Finance and Banking graduates returned to DTU from many different regions to share their youthful memories and emotions with lecturers and friends.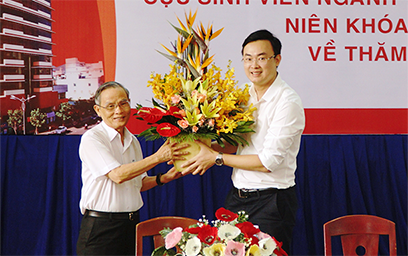 The alumni offer flowers to Distinguished Teacher Le Cong Co
Distinguished Teacher Le Cong Co, DTU President and Provost: Associate Professor Le Duc Toan, DTU Vice-Provost and Dean of the Graduate School; Professor Ho Nguyen Khoa, Vice-Dean of the Faculty of Business Administration, and lecturers from ten years ago attended.
"2007 was the golden age, and the demand for finance and banking graduates was high," said Mr. Ha Phuoc Tuan of class K9. "We all had a big advantage applying for jobs and 70% of us found employment immediately in our major. We are really happy to reunite for the first time."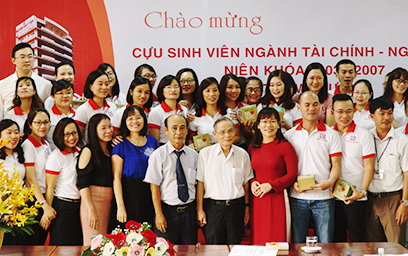 Alumni with members of the DTU Board of Provosts and lecturers
Distinguished Teacher Le Cong Co acknowledged the contributions of the alumni and thanked them, encouraging them to strive for even more success in their careers. "In addition I hope that you will recommend future DTU graduates to your companies," said Mr. Co. "This will help us create a widely-spread workforce of ex-DTU students everywhere. A huge number of 58,000 students have graduated from DTU to date, which is a big strength for DTU. You should also approach DTU students and graduates in your neighborhoods to meet and support each other in your work and lives."
Professor Le Duc Toan overviewed the university's development, from the days it was founded and the problems if faced growing, until today, a large and prestigious university in the network of Vietnamese universities.
To commemorate their reunion, the K9 Finance and Banking alumni presented DTU with 5 million vnd for underprivileged, outstanding students. They also gave their old lecturers attractive gifts, reminisced about the past and took photos to record a memorable day, encouraging DTU to continue striving for perfection in education.
(Media Center)