DTU joins hands to help victims of deadly Storm Damrey
The typhoon Damrey recently hit Vietnam and heavy rain and floods have caused heavy damage to many provinces in Central Vietnam and the Highlands, including Quang Binh, Quang Tri, Thua Thien-Hue, Quang Nam, Quang Ngai, Binh Dinh, Gia Lai, Dak Lak, Dak Nong, Phu Yen and Khanh Hoa. DTU lecturers and staff supported residents by donating 360 million vnd to help them recover.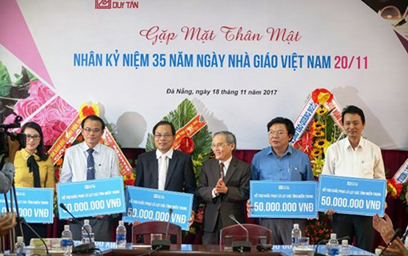 DTU helps victims affected by typhoon Damrey (photo taken by HB)
Over the past five years, Duy Tan University has given a total of 500 million vnd in charitable donations. In 2014 alone, the university donated 200 million vnd to help fishermen, naval families and law enforcement officers in Hoang Sa.
In response to an appeal by the Ministry of Education & Training to work together to help teachers and students in the affected areas, DTU gave the Bhalê Boarding school in the Tay Giang district of Quang Nam province 7,000 sets of clothes, 1,200 notebooks, 600 books and 1 ton of rice. They also gave the Nguyen Van Troi Boarding school 2,000 books, 1,000 notebooks, 1,091 reference books, 135 sets of desks and chairs, 5 magnetic boards, 500 kg of rice, cooking oil and sugar.
In commemoration of the 23rd annivarsary of the university's founding and the 35th anniversary of Vietnamese Teachers' Day, the DTU Board held a get-together with leaders of education in the Central regions and DTU granted 23 scholarships worth total 122 million dong to help outstanding students overcome financial hardship.
(Media Center)