Year-End Private School Conference
The 2016-2017 Year-End Conference of Danang Private Universities and Colleges was held at DTU on July 11th. Mr. Nguyen Van Dung, Director of the Office of Regular, Professional and Higher Education; Mr. Bui Minh Quang, Deputy Office Director of the Department of Education and Training; Dr. Vo Thanh Hai, DTU Vice-Provost; Danang Polytechnic College Vice-Provost, Professor Nguyen Ba Hien, and group leaders attended.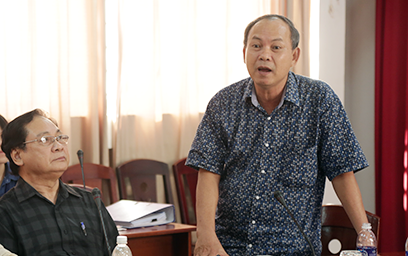 Mr. Nguyen Van Dung, Director of the Office of Regular, Professional and Higher Education
Representing the head of the group and chairing the meeting, Dr. Vo Thanh Hai gave a general report of their work in 2016–2017, highlighting their achievements and shortcomings.
One of the focal points was the improvement of education, and universities and colleges advanced their plans for international partnerships. DTU continued to stand out, with new agreements with Troy University and Keuka College in the USA and several Japanese companies. DTU was also judged highly for being the first private university to obtain national quality accreditation and a Certificate of merit from the Danang People's Committee. In addition, while many private institutions face enrollment difficulties, DTU has the highest enrollment rate of 92%.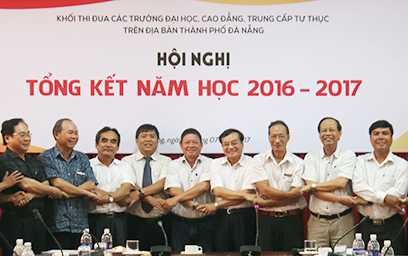 The well-established group members
Mr. Dung appreciated the group's achievements over the past year and spoke about the difficulties they faced. "2016–2017 has been a turbulent year for Vietnamese education, as colleges outside the block have been transferred to the Ministry of Labor, Invalids and Social Affairs," Mr Dung said. "While many of them have not yet settled after the transfer, the 2016–2017 group activities surpass those of previous years in both scale and quality. The Department of Education and Training will strive to create the ideal conditions for us to deal with these challenges."
Votes were cast on which leading schools would be eligible for ministerial and city Emulation Banners and Certificates of Merit. DTU was the only one nominated for a MoET emulation banner for its achievements. DTU and Phuong Dong College were both nominated for Danang banners. The University of Architecture, Dong A University and the Polytechnic College were all nominated for MoET and Danang Certificates of Merit. Heading the group for a second year, DTU continues to earn the respect of the other members as its prestige increases. Next year, Dong A University will lead the group.
(Media Center)