DTU Commemorates the 93rd Anniversary of the Vietnam Revolutionary Journalism Day
On June 6, a meeting was held with the local and regional media to thank them for their support of DTU over the past 24 years and commemorate the 93rd anniversary of the Vietnam Revolutionary Press Day.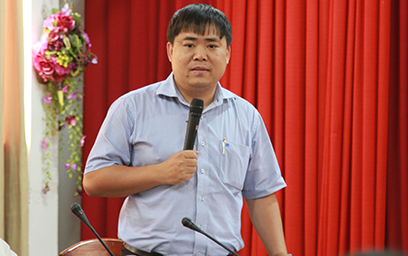 Dr. Vo Thanh Hai congratulates journalists on the Vietnam Revolutionary Press Day
Distinguished Teacher Le Cong Co, DTU President and Provost, said: "During the difficult and challenging 24 years of development, DTU has always striven to be worthy of the trust that the state and society place on us. Throughout this journey, DTU has always cared a lot about the media, through which DTU can efficiently and truthfully report on our activities and development, year-by-year. The constructive ideas we receive from the media really help us overcome problems and improve our standard of education and long-term strategy."
Dr. Vo Thanh Hai, DTU Vice-Provost, congratulated the journalists and summarized DTU's achievements, including the fact that the university has just entered the list of the top ten Vietnamese universities with the most publications in ISI-indexed journals from 2015 to 2018.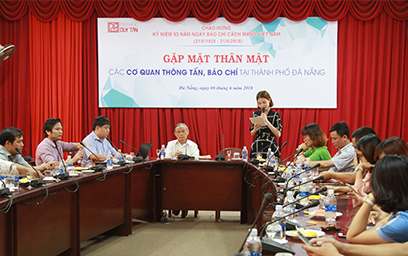 Local Journalists at the meeting
The application entitled "Using 3D Virtual Reality Technology to Simulate the Human body for Health Science Education and Research" was awarded first prize in IT at the Viet Nam Talent Awards 2017 and recognized at the 2018 Sao Khue awards ceremony held in Hanoi; the project entitled: ''Networked Societies for the Cities of Tomorrow", conducted by Dr. Vo Nguyen Son from DTU and Dr. Duong Quang Trung from Queen's University Belfast in the UK was awarded the 2017 Vietnam Newton Prize; the DTU BeeTech team won the People's Choice Awards accolade in the 2018 Microsoft Imagine Cup Asia Pacific finals; and DTU won one first and two second prizes at the Regional Information Security competition.
Journalist Nguyen Thanh Binh, chief representative of Quang Nam News in Danang, said: "DTU has made a lot of big news, with major wards to its lecturers and students and has witnessed a boom in education and research activities in the past year. Hopefully, DTU will achieve even more and continue to support the press and the public with regular updates."
(Media Center)