Meeting with Local Media agencies ahead of Lunar New Year
On February 5th, DTU met reporters of the local press agencies on the occasion of the 2018 Lunar New Year.
Hero of Labor and Distinguished Teacher Le Cong Co, DTU President and Provost, said:"Communications play an important role in publishing accurate news quickly and providing readers with a true perspective of events. Thank you for your support in publicizing DTU to the community and accompanying us through our 23 years of development. Thanks to your constructive opinions, we have been doing our best for the further development of DTU."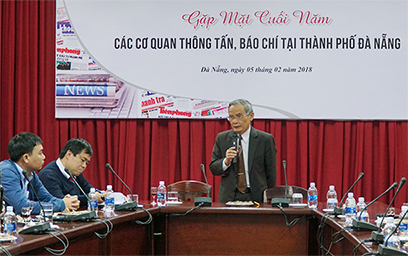 Hero of Labor and Distinguished Teacher Le Cong Co
DTU lecturers and staff gained significant achievements last year, such as the application entitled "Using 3D Virtual Reality Technology to Simulate the Human body for Health science Education and Research", developed by Dr. Le Nguyen Bao, Le Van Chung, Trinh Hiep Hoa, Le Khac Trieu Hung, Nguyen Luong Tho, Nguyen Minh Duc and Le Hoang Quoc Bao, was awarded the only first prize in IT by Prime Minister Nguyen Xuan Phuc at the Viet Nam Talent Awards 2017. With the project entitled: "Building a Foundation for Sustainable Development: ''Networked Societies" for the Cities of Tomorrow", Dr. Vo Nguyen Son from DTU and Dr. Duong Quang Trung from Queen's University Belfast in the UK were awarded the 2017 Newton Prize Vietnam worth £ 200,000.
Mr. Nguyen Duc Nam, Vice General Editor of the Public Security (CAND) Newspaper, said: "The achievements DTU lecturers and staff have gained in recent years are their efforts in enhancing training quality, research and international collaborations. Particularly, the employment rate of graduates also demonstrates the training quality and the close attention of DTU. Hopefully, DTU will maintain its inherent strengths and gain more achievements in 2018."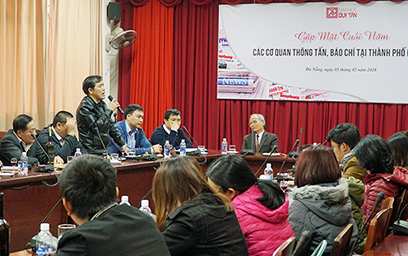 Mr Nguyen Duc Nam, Vice General Editor of the Public Security (CAND) Newspaper
Dr. Vo Thanh Hai gave a brief overview of the teaching and research achievements and awards DTU gained in 2017. According to a survey in the Tia Sang magazine in September 2017, DTU ranked in the top 10 of Vietnamese universities measured by research, education and training, facilities and administration. In February 2018, the State Council for Professor Titles awarded three DTU lecturers the title of Associate Professor. 94% DTU graduates have jobs immediately when they graduate.
DTU students have recently won many important awards in national and international competitions, including: the CDIO Academy 2017 Winner Cup at the 2017 CDIO Academy held in Canada, the champion's cup of Go Green City 2017; the First prize at the National Microsoft Imagine Cup 2017, the First prize in the 2017 Computerized Fireworks Competition; the 2017 Central Vietnam Information Security Championship; and a first rank among international teams (from the USA, Portugal and Austria) at the 2017 VolgaCTF competition in Russia for the Duy Tan University ISIT-DTU team.
On behalf of the DTU Board of Provosts, Dr. Vo Thanh Hai, DTU Vice-Provost, extended Tet wishes to the journalists of Danang who have followed DTU over the past 23 years.
Hopefully, local journalists will continue providing their strong support to DTU and offering constructive suggestions to encourage DTU to steadily improve its quality of education and to achieve its long-term goals on its road to be in the top 300 of Asian universities by 2022.
(Media Center)