New DTU Provost Tasked with Strategic Development
A ceremony was held on August 1 to announce the new DTU Provost, Dr. Le Nguyen Bao. He will manage the strategic development of DTU from 2016 to 2020, looking ahead at the same time to 2025 and 2030. After twenty-four years, DTU is on the verge of a new phase of development as a now well-respected and developed university in education and research.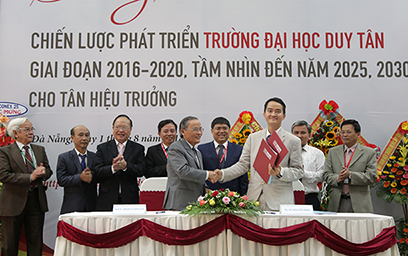 The Ceremony
In an unprecedented outpouring of heartfelt feelings from staff and lecturers, DTU President and former Provost, the Distinguished Teacher Le Cong Co, stepped down as the helmsman who guided DTU through many difficulties to where it is today. Great things are now expected from Dr. Le Nguyen Bao, who, with his dynamism, acumen, and practical outlook on modern university education, will be tasked with formulating efficient policies and strategies to develop DTU to new heights.
One thousand staff and lecturers are unified in their mission to develop DTU and offer an education to worthy students for the poorer parts of Central Vietnam, which was Distinguished Teacher Le Cong Co's strategy when he laid the first stone to found the university.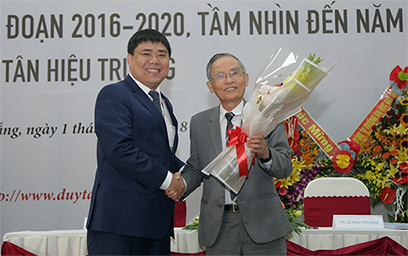 Dr. Vo Thanh Hai (left) gives flowers to Distinguished Teacher Le Cong Co
DTU Vice-Provost Dr. Nguyen Huu Phu read the Danang People's Committee decision relieving Mr Le Cong Co of his duties as DTU Provost and the decision acknowledging Dr. Le Nguyen Bao as the new DTU Provost from 2015 until 2020.
Twenty-four years cannot be condensed to one short speech, however Distinguished Teacher Le Cong Co gave a comprehensive overview of DTU's achievements and the problems still to be overcome. Fighting in the war was impossibly difficult, but he did not flinch or retreat. Afterwards, when he founded DTU, the difficulties were to establish a private university to improve the education of the troubled Central Vietnam region and to pay back his dues to lost comrades. He has tried for twenty-four years, with unceasing effort, to overcome all these issues, and DTU has just completed a promising journey, with impressive numbers to show for it.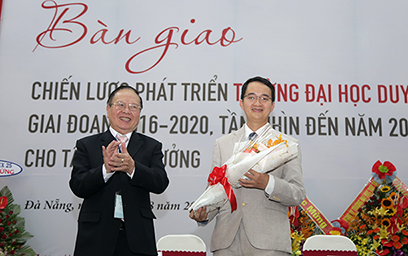 Dr. Le Nguyen Bao, the new DTU Provost, (left), receives flowers from Dr. Nguyen Ngoc Minh
Over the years, DTU has enrolled a total of 86,591 students, of whom 45,884 have graduated. In research, during the past five years of promotion, one thousand papers have been published in ISI-indexed journals and 46 papers in Scopus journals, in addition to many research projects funded by ministries, provinces and the university itself.
Great success has been achieved in international partnerships sharing curricula with well-known universities, particularly in the US. One thousand international lecturers have taught classes at DTU and over 273 DTU lecturers have gone abroad for training. Many students have also traveled overseas and foreign students have come to DTU. The prestige of the school is also demonstrated by the trust of the 250 businesses who have signed agreements with DTU to provide further education, internships and career opportunities.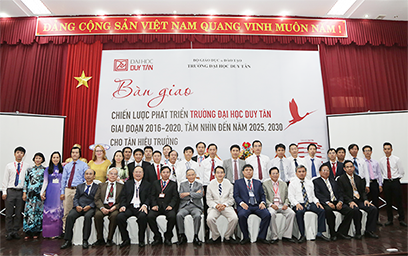 DTU staff and lecturers on this important day
"I realize that today is a big day, a good day, a day to mark a new and successful future, after the 24 years of development," said Vice-Provost Dr. Minh, a representative of the university Board of Provosts. "I joined the university ten years ago but gained much experience before coming here and discovered that the other Board members, though widely different in age, all admire and trust our leader and are very satisfied with the educational environment at DTU.
"Today, Distinguished Teacher Le Cong Co hands over his position as Provost, after 24 years of outstanding management. He will always remain in our spirits and in our hopes to encourage our staff to strive to develop DTU even further and make it a study environment worthy of the trust of students worldwide.
"Such development creates new requirements from someone new who has weathered the storm and is now ready to assume this new position. I have every reason to believe the Dr. Le Nguyen Bao will continue the remarkable achievements built on a foundation of the hard work of his predecessor."
Although still young to become a DTU provost, years of work and sacrifice for the university have made Dr. Le Nguyen Bao strong and decisive, with innovative ways of thinking. Today, he has already shown an earnest working spirit and an aspiration to make DTU even stronger, with a convincing strategy for all aspects of educational development. Every student at DTU will benefit from improved, high-quality education through international partnerships and accreditations, and a continuing emphasis on research, ISI publications, and an atmosphere where lecturers and students can work together for the benefit of all.
(Media Center)