DTU Manufactures Battery-powered Wheelchairs for the Handicapped
DTU and the Da Nang newspaper donated ten battery-powered wheelchairs to the handicapped in Danang
DTU Vice Provost Assoc.Prof. Nguyen Ngoc Minh explained that the organizers were assisted by the Da Nang Newspaper and the leadership of five Danang wards and communes to select ten people with disabilities in particularly difficult circumstances to be recipients of the wheelchairs. These are the first products researched, designed, and manufactured by DTU lecturers and students. The intention was to improve their psychological wellbeing and efforts to succeed in their lives.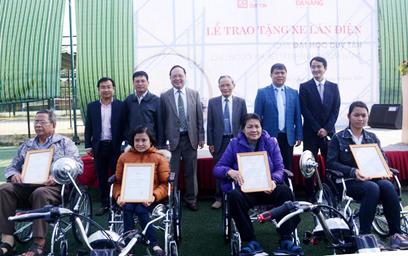 DTU gives electric wheelchairs to the disabled
Among recipients are Mr Huynh Van Thanh in Phuoc My ward, who is 77 years old and a war invalid; Mr Le Van Chin who is 75 years old; Ms. Phan Thi Phuc who is 72 years old in Phuoc My ward or Ms Dang Hong Anh in Hoa Minh ward), a victim of agent orange with a shrunken body and immobile legs.
Mr Tran Minh Hoang's life is hard, with two children in college. His wife works in the fields near their home while caring for him. When receiving a wheelchair, he said, "Thank you DTU for this electric wheelchair, which will allow me to go around, overcome my difficulties and take care of myself."
MSc Dang Ngoc Sy, Director of the CEE which created and produced the wheelchairs, and youths and DTU students of the Youth Union met each of the recipients to enthusiastically instruct them in the use of the wheelchairs. According to Mr Dang Ngoc Sy, the structure of the wheelchairs is very simple with two main parts. The steering wheel integrates electric switch, accumulator, gearbox with four gears plus reverse, brakes, and throttle. The high speed is 30 km/h. The second main part has a stable seat. Both these parts can be taken apart for convenience.
For the occasion, several delegates visited the DTU workshops at its Hoa Khanh Nam campus, where the first electric wheelchairs were created by Faculty of Electrical Engineering staff, lecturers, and students. This is also where DTU's famous robots come from, which not only compete in national and international contests, but have also been put to use. As an example, the story of the students Tran Dang Khoa and Phan Trong Hieu from Dai Loc in Quang Nam, who were fitted with DTU-produced "robot arms for the disabled", shows the scientific and humanitarian heart of DTU throughout the 24 years of its existence.
(Media Center)