DTU Donates Ten Electric Wheelchairs to the Disabled
On January 26, DTU donated ten electric wheelchairs, manufactured by lecturers and students from the DTU Center of Electrical Engineering, to local handicapped people with special difficulties.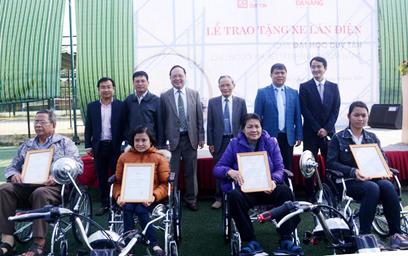 DTU Board of Provosts and DTU researchers give detachable-motor wheelchairs to the disables
Dang Ngoc Trung, the lecturer who led the students, said that his research team wanted to make wheelchairs allowing the disabled people to move easily in different places unaided.
Each of the wheelchairs features an electric motor that enables the users to easily move long distances or go shopping, to restaurants, hotels, and anywhere they want.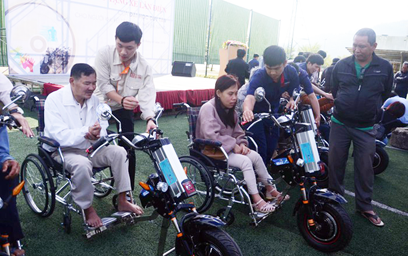 Disabled recipients are showed how to use the wheelchairs by DTU researchers
The electric wheelchairs worth around 20 million dong each. According to Mr. Dang Ngoc Trung, the drive units were powered by batteries that were light but strong enough to cover 30 to 40 kilometers non-stop.
In March 2017, the Robotica team from the DTU Center of Electrical Engineering created a project named "Robotic Arms for the Disabled". After four months of dedicated research and development, the team completed their project. Two robotic arms were successfully attached to Phan Trong Hieu and Tran Dang Khoa in Quang Nam.
(Media Center)