DTU Donates Electric Wheelchairs to Revolutionary Veterans
On March 3, the Danang Department of Labor-Invalids and Social Affairs and DTU gave an electric wheelchair to Mr. Tran Than, a revolutionary veteran.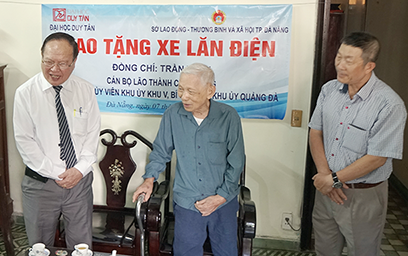 DTU Vice-Provost and Associate Professor Nguyen Ngoc Minh with Mr. Tran Than
Mr. Tran Than joined the Revolution in 1940. After many years of arduous fighting on the battlefield, he remained devoted to the army in peacetime. When he retired, the results of war injuries, old age, and a stroke made it difficult for him to move. DTU donated him the wheelchair in proud recognition of his contribution to national independence. The wheelchair is a humanitarian project, researched, designed and manufactured by DTU lecturers and staff.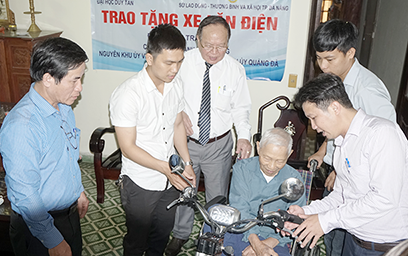 DTU lecturers teach Mr. Tran Than how to use the wheelchair
"I have been paralyzed for many years now, my other wheelchair was far too old and it was difficult to go anywhere", said a happy Mr. Tran Than. "But with this new wheelchair, I can easily go forwards, backwards or turn without help. I sincerely thank DTU for their understanding and this valuable gift. It is a very beautiful gesture of the university to improve the mobility of myself and others."
An electric wheelchair is a very practical product to help the disabled overcome their difficulties and on January 26 DTU gave the first ten wheelchairs to Danang residents in particularly difficult circumstances.
(Media Center)