University Historical Documentary Attracts Large Crowds
After making its premiere in Danang on April 26, The First Swallows was screened in Hanoi for the first time on Wednesday May 15th. Without a big advertising budget, ten screenings at the Hanoi CGV cinema were as good as sold out.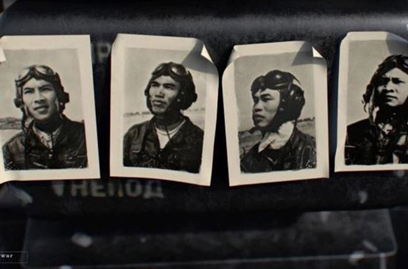 Portraits of the Vietnamese pilots who took part in the dogfight for the Thanh Hoa Bridge in 1965.
Photo: TL
The First Swallows is a 40-minute two-part documentary featuring the Battle of Ham Rong in Thanh Hoa Province on April 4, 1965.
Lieutenant General Tran Hanh, the only Vietnamese Air Force survivor of the first aerial battle, attended the screening. "The movie portrays a truly fierce battle", he said. "The war was really just as savage as the movie".
The audience comprised both the old and the young, who were equally moved. Although the movie was not as polished or highly professional as others, The First Swallows and its technology brought a new attractive, multi-dimensional insight into Vietnamese history.
Dr. Le Nguyen Bao, DTU Provost and head of The First Swallows project, explained that, when studying in the US, he saw a great many movies about the air war, only showing US planes downing Vietnamese ones. Out of national pride, he decided to make a movie about the aerial battles, to help younger generations get a better understanding of the Vietnam War and what really happened. Dr. Bao staffed the Silver Swallows Studio with twenty-five project developers. The Silver Swallows team took five years to create and develop the film. During that time, the words of one of the Vietnamese pilots resounded, motivating Dr. Bao to persevere, saying, "If you don't do this, nobody will be able to tell the younger generations about it after we have gone."
As well as their financial constraints, the film crew experienced casting and equipment challenges. Editor and cameraman Thai Bao Long explained that, instead of using advanced studios, as they do in the US, the crew had to construct makeshift cardboard structures and film outdoors in 40°C temperatures to obtain the best overall natural lighting conditions.
According to Dr. Le Nguyen Bao, there was pressure to stay truthful to historical accounts of the event. The First Swallows is based on Vietnamese and American accounts, including Air Battles in the Vietnamese Skies (1965–1975) by Nguyen Sy Hung and Nguyen Nam Lien and those of the American pilots. Some of the details and interpretations significantly conflict with each other. "We were not afraid of that," Dr. Bao explained. "It was important to us is that we were honest with ourselves and as objective as possible. Otherwise we'd be betraying our history."
(Media Center)