Young People Have a Strong Passion for our National History
On April 27, the DTU documentary "The Vietnam Air War - The First Swallows" was first released on a low advertising budget. On May 15, it was screened ten times at the Hanoi CGV cinema. The film was produced by the DTU Silver Swallows Studio, has two parts and is 40 minutes long.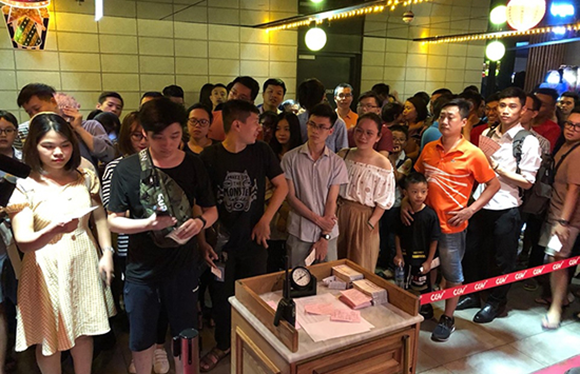 Young Hanoians watch the documentary at the CGV Ba Trieu cinema. Photo: TTVN
Although the film was a not-for-profit venture, the producers were forced to sell tickets to cover their expenses in Hanoi, due to high demand but limited funds. Surprisingly, all the screenings sold out after just one week and others who wanted to see the film were unable to get tickets. It will also be shown in Ho Chi Minh city.
As well as their financial constraints, the film crew experienced casting and equipment challenges. Editor and cameraman Thai Bao Long explained that, instead of using advanced studios, as they do in the US, the crew had to construct makeshift cardboard structures and film outdoors to obtain the best overall natural lighting conditions. Studio members also played the young Vietnamese aircraft pilots themselves.
The early success of the documentary shows the courage of the DTU film makers. Although making an historical documentary is not easy, even for professional film-makers, Dr. Le Nguyen Bao, DTU Provost and the film's director, with his great passion for national history, decided to make The First Swallows to help younger generations get a better understanding of the Vietnam War and what really happened.
The studio team wanted to make their small contribution to highlight this heroic event in the history of the VPAF in the fight for national independence. The youthful professionals confidently worked their hardest, overcoming all challenges and accepting all the risks, going from failure to success, setting an example by their daring, doing their very best and finally making a significant contribution.
The First Swallows is unique because of its historical accuracy in recreating the victory of April 4 1965 at the Hong Rong Bridge in Thanh Hoa. Two American fighter jets were shot down by Vietnamese pilots of the Red Star Regiment. The movie is based on US Air Force and Vietnamese war records and is well presented, without becoming overly bombastic or boring, like many other historical documentaries.
The choice of using the latest cinematographic techniques was also part of its success. Many VFX technology documentaries have been made in other countries, but this was one of the first in Vietnam. During production, many of the team left to pursue other attractive opportunities elsewhere. However, other developers then joined the team because they loved the idea of the project.
At the press conference, Dr. Le Nguyen Bao said: "Our historical documentary attracted large crowds and young people in particular, proving that they still really care about our history."
Lieutenant General Tran Hanh of the Red Star Regiment attended the screening. "We are grateful to the film-makers of The First Swallows," he said. "The movie portrays a truly fierce battle. The war was really just as savage as the movie."
(Media Center)