DTU Establishes Institute for Hospitality Education & Research
Tourism in Vietnam has been developing rapidly, especially with increasing numbers of foreign visitors coming on holiday or investing here. Therefore, Vietnam needs to expand and increase the quantity and quality of its hospitality workforce even more, to guarantee the best service. The DTU Institute for Hospitality Education & Research has now been established to focus on Vietnam becoming the leader in Southeast Asia, by bringing education up to the most stringent international standards.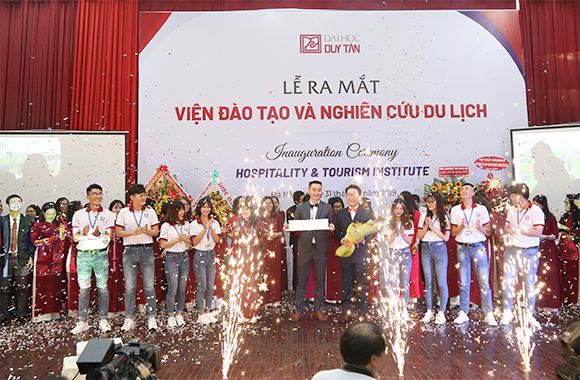 The importance of research institutes in national hospitality development
Many countries have made breakthroughs in their development because of tourism. Several factors, such as geographic location, attractive natural scenery and World Heritage sites attract visitors. Other factors, including the local people and strategic planning also result in success. Most countries with well-developed tourism markets have their own research institutes, in particular the Swiss Hotel & Tourism Management Institute, the Tourism Management Institute in Singapore, the Canadian Tourism & Hotel Management Institute, the Institute for Tourism Studies in Macau and the Indian Institute of Hotel Management. Many of these were founded by universities, such as the Hong Kong Polytechnic University School of Hotel and Tourism Management and the Institute of Hotel Management and Tourism at Bethlehem University in the USA.
The inauguration ceremony
These research institutes play a vital role in carrying out in-depth research to realize the full potential of tourism in their countries and exploiting its special strengths, it's natural resources, people and location, to preserve its culture and traditions by attracting lucrative tourists.
On August 31, DTU officially opened the Institute for Hospitality Training & Research. "For many years, DTU has been working closely with the Danang Department of Tourism, organizing national and international conferences on Tourism and developing innovative educational programs to improve hospitality training," said Ms. Truong Thi Hong Hanh, Deputy-Director of the Danang Department of Tourism. "Such programs have made DTU one of the most respected institutions in Danang and across Vietnam. So far, DTU has graduated 8,000 highly-qualified hospitality professionals, 98% of whom found good jobs and received positive feedback from their companies. The decision to create the Institute for Hospitality Training & Research was a good one, as it will contribute to remedying the lack of local human resources and, at the same time, expand hospitality research to accelerate tourism development."
A Korean institute director chooses to work at DTU
Hero of Labor and Distinguished Teacher Le Cong Co explained, "Implementing the Politburo resolution to make Tourism one of the key sectors of the country economy requires focused solutions, including the increasingly important role of universities in training human resources to the highest levels and supporting development worldwide. DTU has founded the Institute for Hospitality Training & Research to affirm its step into the future and to create a solid foundation for the improvement of the quality of Hospitality staff in Central Vietnam and elsewhere."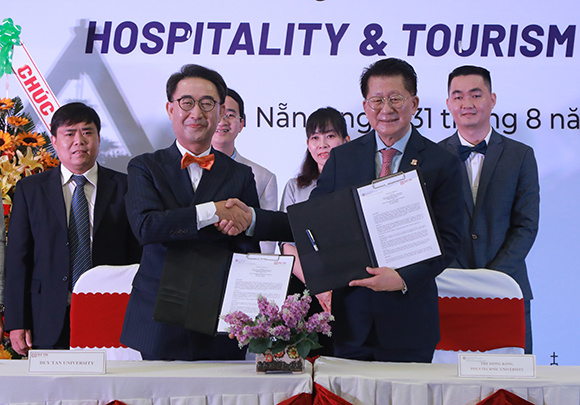 Director Professor Lim (left) signing an agreement with Professor Kaye Chon, Director of the School of Hotel and Tourism Management at Hong Kong Polytechnic University
Professor Lim has many years of experience as Director of the Institute for Hospitality & Entertainment Research at Dong-A University in South Korea, then as Director of the Dong-A University Institute of Lifelong Education and Chairman of the Busan Tourism Future Association. Professor Lim is currently the Chairman of the Asia Pacific Tourism Association. He is now the Director of the DTU Institute for Hospitality Training & Research.
"Danang is an emerging destination which has recently boosted tourism in Vietnam," explained Professor Lim in his new role. "This is because of its seaport, international airport, rich touristic resources, and serving as a gateway to the cultural heritage of Central Vietnam. Danang has meanwhile achieved the specific goals of its 'five nos' policy: no hungry families, no illiteracy, no vagrants or beggars, no drug addicts, no murders or robberies. This is Danang's special appeal and the reason why Korean, Taiwanese and Japanese tourists have been flocking here. I foresee the lifetime of tourism in Danang could be very long, with many opportunities to compete with other nations. However, Danang must pay much more attention to infrastructure investment, human resources and in particular education, because the quality of service here currently does not yet meet five-star international standards. Investment to improve the education of human resources is therefore vital."
Increasing ISI publishing and Hospitality training capacities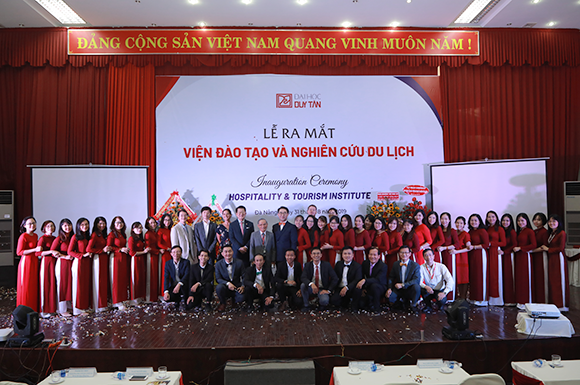 DTU Board of Provosts, DTU lecturers and staff of the Institute for Hospitality Training & Research
DTU has become famous for its hospitality education through hard work and by implementing international partnerships to improve local education. DTU has always selected relationships in Hospitality with universities in the most developed countries. These include Pennsylvania State University, one of the leading American universities in Economics and Business Administration, since 2010. DTU has also collaborated with Taylor University in Malaysia since 2015, Sejong University in South Korea since 2017, and the National Kaohsiung University of Hospitality and Tourism in Taiwan since 2018, consulting on curricula and to sending students on internship exchanges.
At the ceremony, DTU actually signed another agreement with the Hong Kong Polytechnic University, to send graduates there to study for Master's degrees. After an in-depth study of the growth, development and investment in Hospitality at DTU, Professor Sang Teak Lim accepted an invitation to head the DTU Institute for Hospitality Training & Research and develop links with Vietnam.
Dr. Bui Kim Luan, Deputy-Director of the DTU Institute for Hospitality Training & Research, added, "There are currently many successful scientific research projects underway at IT, in biotechnology, physics and so on, evidenced by the voluminous number of papers published in famous ISI-indexed journals. Research activities in tourism however are rather modest, with very few international publications. DTU established the Institute for Hospitality Training & Research to publish more in-depth research on Tourism and apply the findings practically in the development of the industry."
(Media Center)