DTU Accounting Alumni Reunion
On September 14, a number of 2005 - 2009 Accounting alumni returned to DTU to share their youthful memories and emotions with lecturers and friends.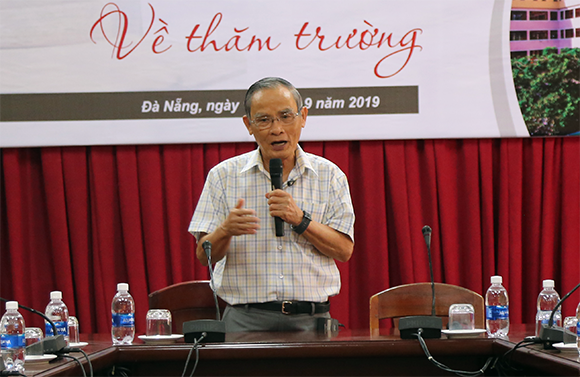 Hero of Labor and Distinguished Teacher Le Cong Co and DTU President speaks
Ten years ago was neither a short or long period in their lives, just a link from past and present. The alumni joyfully reminisced about their vivid memories with their peers. Most of them have succeeded, with some going off in other directions, working for the Ministry of Defense, the Tax Department, in companies or still at DTU.
Ms. Truong Thi Tuong Vy, an Accounting alumnus, said: "I would like to express our deep gratitude to our dedicated teachers and the university for providing us with the ideal educational environment on the road to our current careers. We expect that DTU will progress even further to educate highly-qualified professionals to contribute to the socio-economic development of Vietnam."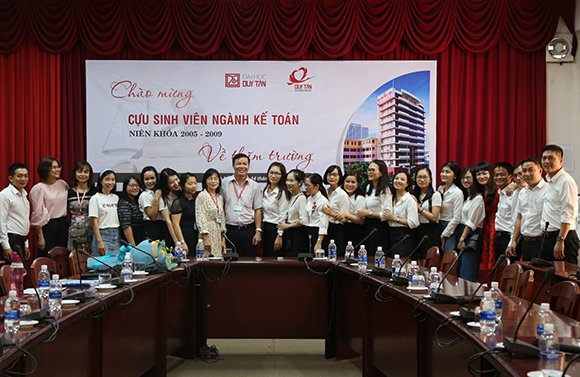 2005 - 2009 Accounting alumni with their lecturers
Distinguished Teacher Le Cong Co said: "I am delighted to meet you all today, ten years after your graduation, enough time for you to reach your goals in your careers and personal lives. Over the same time, DTU has gained noteworthy achievements in both education and research. Our DTU Networking Engineering and Management Information System programs have received ABET accreditation, the university has opened its Hospitality and Tourism Institute, our historical documentary, the First Swallows, has premiered in theaters and; in the 2018 academic year, DTU researchers published 840 ISI papers. I hope that you will all stay in touch, support future students to perfect themselves and build solid careers into the future, as you have."
The alumni reminisced and took photos to record their memorable day. This was an excellent opportunity for them to express gratitude to their DTU lecturers and present flowers to them.
(Media Center)