DTU Welcomes 25th Freshman Class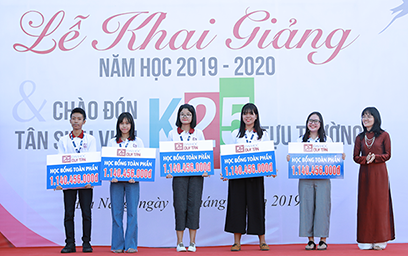 DTU awards full scholarships to outstanding students
On September 9th, DTU solemnly held the opening ceremony of the academic year 2019–2020 and welcomed the freshmen of the university's 25th classes. This year's opening ceremony was filled with happiness and emotion as the University is about to celebrate its 25th anniversary.
After the opening ceremony the students participated in many interesting activities, among colorful booths introducing the university and its faculties.
At the opening ceremony, DTU Provost Dr Le Nguyen Bao said that enrolling at DTU the students could be completely confident with their choice and DTU would provide the students a creative and stimulating study environment during the best years of their lives.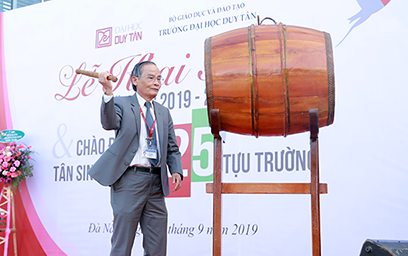 Distinguished Teacher Le Cong Co, DTU President, beats the ceremonial drum to kick off the new academic year
On this occasion, DTU presented gifts to foreign students and scholarships to the leading students in the 2019 High School Graduation Exam.
Particularly, outstanding students of the On-Site Study-Abroad programs for American degree from a collaboration between DTU and Troy University and Keuka College were awarded valuable scholarships totaling 1 billion dong.
DTU students have been working hard to achieve as much as possible to celebrate the 25th anniversary, (11/11/1994 - 11/11/2019).
(Media Center)