DTU successfully hosts the 2019 ISIT DTU CTF Finals
On August 17, the 2019 ISIT DTU CTF finals took place at DTU, with 12 teams, two from India, one each from Germany, South Korea and the Ukraine, one multi-national team from Indonesia and Vietnam, and 6 teams from Vietnam. They were the winners in the qualifying round of 300 contestants which lasted for 24 hours at the end of June.
The annual contest is open to Cybersecurity students from countries best prepared for cyberattacks. The teams are ranked in the top 20 worldwide.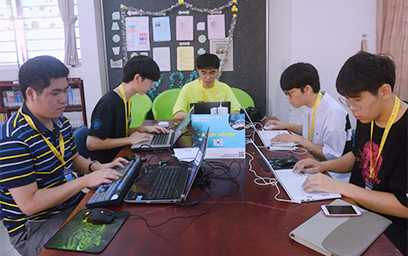 The Alph Infinite team, from South Korea
A broad knowledge and experience of recent cybersecurity events, especially cyber-attacks, was required to succeed in the day-long, real-time test simulations, developed by a DTU IT research team.
"We focus on evaluating the candidates' ability to detect vulnerabilities and to exploit these security holes." said Mr. Nguyen Kim Tuan, Head of the IT Network Security Division at DTU.
During the contest, the DTU observers measured the ability of the 12 teams to detect vulnerabilities and to exploit these security holes. The scores for each protection request or attack were averaged to obtain the final result, which was a major challenge for the judges.
The Vietnamese Ayer Beer team, with students from the Hanoi University of Science and Technology and Vietnam National University, won the first prize of $2,000, while the Indian Bi0s team came second, with $1,000, and a third prize of $500 went to the Flux Fingers team from Germany.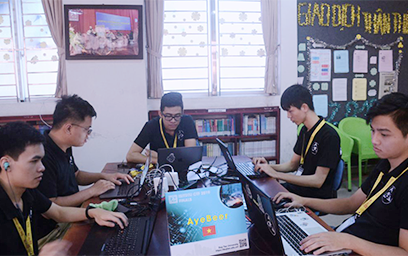 The winning Ayer Beer team
Mr. Vu Quoc Khanh, a representative of the Vietnam Information Security Association (VNISA), said: "Primarily, this competition is a venue for the cybersecurity community to meet, compete and share information. I believe that everyone Here will be a winner because you will understand more about the role and ethics of an information professional. After several years of competition, our contestants have become industry leaders in major corporations. The competition helps us locate information security talent and improve education quality."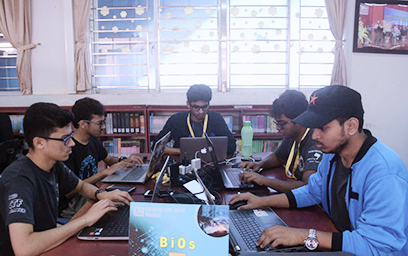 The Bi0s team from India won second prize
This is the second time that DTU has been entrusted to hold this international competition.
"DTU has been chosen to hold the 2019 ISIT DTU CTF finals because of their excellent facilities, quality of education and expertise in IT Information Security applications and it has put much effort into holding this competition. The contest is important because the tests closely simulate real-world situations. Meanwhile, DTU is able to successfully contribute to the development of Information Security systems in Vietnam. The project to build a smart city in Danang has received strong support from the community, so DTU now has the responsibility to supply the resources. Information Security, especially cybersecurity, plays a really important role in constructing a smart city." said Mr. Nguyen Kim Tuan.
(Media Center)