Welcome to Laotian students studying at DTU in 2019-2020
On August 26, DTU met with Dr. Xone MoneVilay, from the Lao People's Democratic Republic's Ministry of Labour and Social Welfare, and the 14 Laotian students who are enrolling at DTU in 2019-2020. DTU Vice-Provost, Dr. Nguyen Huu Phu, faculty representatives and DTU departments welcomed them and granted them all full scholarships and free accommodation.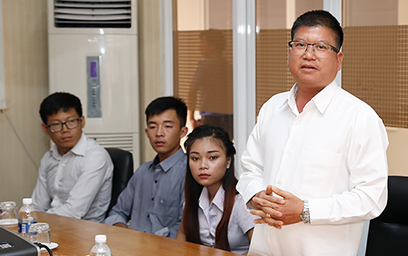 Dr. Xone MoneVilay speaking
Dr. MoneVilay said: "We are so happy with the warm welcome DTU has given us, as well as the scholarships. DTU is a big, diversified university, which we all need. In addition to studying, we would like DTU to arrange some short corporate training courses for us to broaden our experience and professional skills."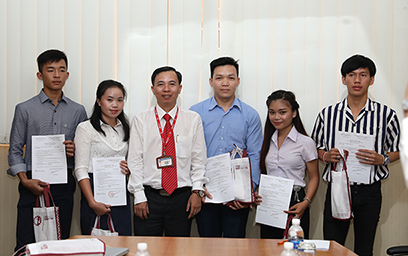 Dr. Nguyen Huu Phu gives DTU uniforms to the Laotian students
In the near future, DTU will welcome more foreign students from Taiwan, Myanmar and the Philippines.
(Media Center)