Come to Danang to study Odontoid-Stomatology at DTU
More students are now majoring in Odontoid-Stomatology at DTU even though it came into being quite late compared to General Practitioner, General Nursing and Bachelor of Pharmacy which were first offered ten years ago.
Why has the DTU Doctor of Odontoid-Stomatology major become so popular recently?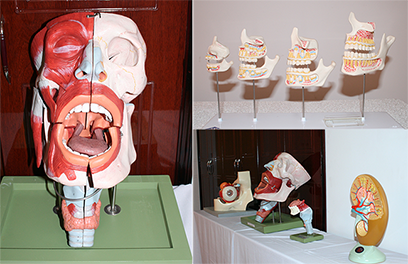 International-standard training programs
DTU partners with two major American universities to share programs, including the University of Illinois in Chicago, which has the most comprehensive program in Medicine and Nursing in the US, and the University of Pittsburgh, ranked fifth in the US in Health Science.
Students study in DTU's state-of-the-art practice labs
DTU Health Science students train in customized laboratories with an expert team of lecturers, consisting of ten level 1 and 2 specialists, three professors, nine associate professors, fifteen PhDs, two PhD students and twenty-seven Masters.
The course provides a basic to advanced foundation in medicine, especially Odontoid-Stomatology. The course will teach:
•
Structural function and operation of the human chewing system.
•
Disease prevention, treatment and Odontoid-Stomatology research.
•
Diagnosis and treatment of common odontoid-stomatologic diseases, like tooth decay, periodontitis and dental infections.
•
Treatment of odontoid-stomatologic emergencies, such as bleeding after tooth extraction, dental pulpitis and jaw fractures, facial trauma and infection.
•
Use of traditional and modern medicine combined to prevent and treat odontoid-stomatologic issues.
State-of-the-art practice labs
DTU has invested in building of a system of 18 modern Medicine and Pharmacology labs for research into physiology and immunology, embryology, medicine preparation, testing, chemistry and pharmacy practice, industrial pharmacy, and others. They are:
•
Physiology - immune lab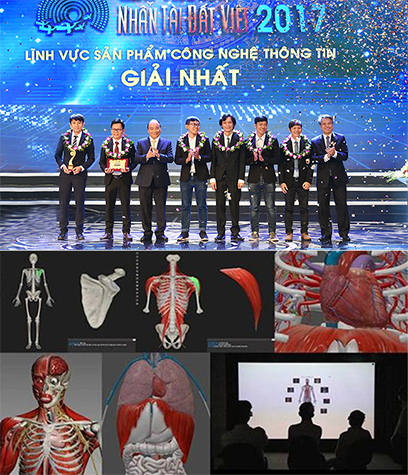 The 3D Virtual Reality Technology software.
DTU uses special 3D Virtual Reality Technology software to simulate the human body in health science courses and research, developed by the DTU Center of Visualization & Simulation. The system is highly regarded for its contribution to the teaching of medicine and won an Award of Excellence in the 2016 Young Intellectual Education competition, first prize in the 2017 Vietnamese Talent contest and the silver prize in the 2018 ASEAN ICT Awards.
The 3D medical applications completed so far include 3D models of the skeleton, muscular, nervous, digestive and circulatory systems, which visualize the interior of the human body, either in 2D form in the computer labs or on smartphones, or in 3D in a projection studio. It will also provide views of the structure of the head and face, to accurately diagnose patients before treating them.
In addition, DTU has signed agreements with local hospitals, such as the Danang Center for Odonto-Stomatology, the Danang C Hospital, the Danang General Hospital, the Ministry of Public Security 199 Hospital, the 17 Military Hospital Region and the General Hospital in the highlands of northern Quang Nam, to offer practical clinical experience with a wide variety of patients.
Odonto-stomatologic students are trained in customized laboratories by an expert team of lecturers and will have excellent job opportunities with attractive salaries, beginning at 20 million vnd per month.
Admission information
DTU enrolls based on National High School Graduation Exam scores and applicants can choose from the following four subject sets for admission:
•
Mathematics, Physics, Chemistry (A00)
•
Mathematics, Natural Sciences, Literature (A16)
•
Mathematics, Chemistry, Biology (B00)
•
Mathematics, Natural Sciences, English (D90)
Tuition fees information
Program

Tuition fees/ semester

Ordinary program

8.8 million dong

Advanced International programs

9.6 to 12.6 million dong

Talent program (A 20% reduction for the whole course)

8.8 million dong

American On-Site Study-Abroad degree program

29.3 million dong

Study-Abroad program (America, UK, Canada)

22 million dong

Vietnam & Japan collaboration program

10.3 million dong

Bachelor of Pharmacy

15.2 million dong

General Practitioner; Doctor of Odonto-Stomatology

26 million dong

*Note: two semesters per year
For detailed information, please contact the DTU Enrollment Center
254 Nguyen Van Linh, Danang
Hotlines: 1900.2252 - 0905.294390 - 0905.294391
Website: http://tuyensinh.duytan.edu.vn
Email: tuyensinh@duytan.edu
(Media Center)