DTU Opens New HR Management Major in 2019
Among the factors determining the success of a business are capital and a diversity of business relations, but another vital factor is human resources. Attracting talent is difficult, but managing talent and distributing work to the right people to improve work efficiency is even tougher. This is why human resource (HR) management is on its way to become a hot major, and many students chose to study it in recent years. Faced with this very practical demand from society, DTU will officially start a major in HR Management in 2019. We talked with MSc Nguyen Huy Tuan, Acting Dean of the DTU Faculty of Business Administration, to learn more about HR administration training at the university.
Reporter: Becoming a hot field attracting many young people, HR management is currently understood as more than just recruiting, attendance taking, and computing wages - the dull work it used to be. Can you tell us about the role of HR managers and about what makes their work interesting?
Prof. Nguyen Huy Tuan: Time was when the job of an HR manager was quite dull and tedious, as it all revolved around taking attendance and recruiting. Nowadays, however, the role of HR managers has changed and it's becoming more and more respected work. Not only does it requires new ways of thinking and a wide network of relations to attract talent to a company, people responsible for HR management also make significant contributions to the cohesion of the different divisions in an organizations, conflict resolution among employees, solutions for work efficiency improvement, and encouragement of employees, and they should have a strategic view of the development of human resources at a business. Furthermore, work related to learning about and understanding employee psychology and to organization of external activities makes it all more dynamic and lively.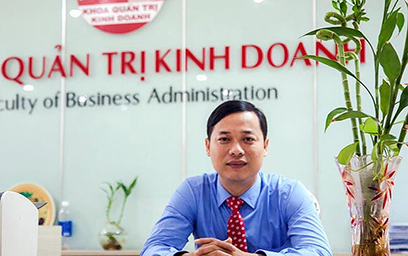 Prof. Nguyen Huy Tuan at the DTU Faculty of Business Administration
Reporter: Students of HR Management should therefore possess a great many soft skills to meet the requirements of this currently very diverse work, shouldn't they?
Prof. Nguyen Huy Tuan: HR Management does not directly involve production of tangible products, but the work produces "invisible assets" affecting long-term profits of any business. To become a skilled HR manager, students should, besides possessing specialized knowledge, have observational skills, be good communicators, be able to listen to others, and understand the thoughts of the people around them. Students should also be able to work in a team and be creative and flexible to support their colleagues and to execute their tasks smoothly.
The twenty enthusiastic and dynamic lecturers of the Faculty of Business Administration, trained at leading prestigious training institutions in Vietnam and always willing to update their knowledge according to the development trends of the 4.0 Industrial Revolution, will systematically provide students with specialized knowledge and key soft skills. Students of HR Management will furthermore have many opportunities to study directly with foreign lecturers to improve their level of English for HR management.
Reporter: Can you give more information about curriculums, pedagogical methods, and professional skills taught through this major at your university to young people thinking about signing up for HR Management at DTU, professor?
Prof. Nguyen Huy Tuan: DTU created a high-quality curriculum to provide students with basic knowledge of economics, general and specialized knowledge about HR, the principles of operating and managing human resources, knowledge related to labor policies, HR planning, HR assessment, recruiting and training employees, as well as professional skills that are practically useful for the work, creating policies, plans, and project to implement a business's HR strategies; examine, assess, forecast, and solve problems that arise in HR management; create policies to attract and recruit people; train and develop employees; assess and efficiently manage employee performance, and so on.
In particular, students of HR Management at DTU will study with a program simulating the HR management activities of a business. Practicing in a virtual business environment will give them the chance to experience work for real and to try their abilities.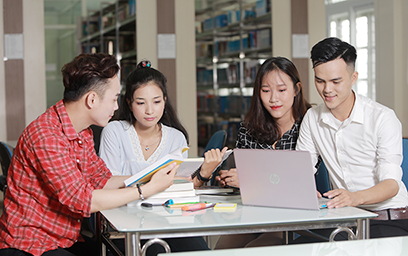 DTU students do their best to obtain good jobs at businesses
Reporter: What can you tell us about the job opportunities of a Bachelor in HR Management , indispensible at any organization or business nowadays, after graduating from DTU?
Prof. Nguyen Huy Tuan: As businesses develop and grow in scale, and especially in an ever-competitive and animated business environment, the role of a Bachelor in HR Management is more important than ever. According to the assessments of experts in the field, HR management is a field experiencing a shortage of skilled people, especially now that supply does not meet demand. This creates a golden opportunity for young people studying hard to obtain good employment with attractive remuneration.
After graduating, DTU Bachelors in HR Management can work as as labor market researcher and forecast specialist, training manager, recruiter, perk policy expert, wage policy expert, insurance expert, internal communications expert, or internal relations manager, and they will have opportunities to advance to positions such as HR department head, deputy director in charge of personnel, or HR director. In addition, they can become teacher, training expert, or professional headhunter.
Reporter: Thank you professor!
For further information please contact:
The DTU Enrolment Center at 254 Nguyen Van Linh, Danang
Hot line: 1 900 2252 - 090 529 4390 - 090 529 4391
Website: http://tuyensinh.duytan.edu.vn
Email: tuyensinh@duytan.edu.vn
(Media Center)