A Bac Ninh Student with 26/30 Points is Admitted to DTU
With 26 points on the D01 subject set, including an English language score of 8.6, Bui Thi Linh from Bac Ninh is one of the highest-qualified DTU applicants this year and will receive a full scholarship to study Tourism and Hotel Management in the On-Site Study-Abroad program. On graduation, Bui Thi Linh will be awarded a US degree, in partnership with Troy University in the US.
Bui Thi Linh heard about DTU through a "Tony Buoi Sang" short story
Linh was born and raised in a small countryside village in Bac Ninh province, the cultural cradle of the ancient Kinh Bac district, where she inherited the studiousness of her ancestors. She worked hard at high school years and, in the12th grade, won third prize in Literature in the provincial Skilled Student contest.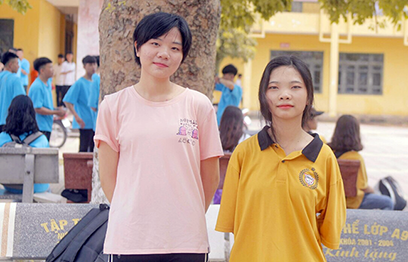 Bui Thi Linh (left), with her best friend
In addition to her studies, Linh loves reading books and newspapers to broaden her knowledge. Her favorite book is "Tony Buoi Sang", which has significantly changed her way of thinking. She then started following the Tony Buoi Sang fan page, where she has learned much from useful advice, interesting stories and refreshing philosophies on life.
"By chance, I read a small story about DTU, which Tony Buoi Sang shared on Facebook," Linh explains. "I was very impressed with the curricula of the university, especially the focus on English language training and student study methods. I searched for more information online and found DTU to be very strong in self-development. Then I saw the trailer of the historical film "The First Swallows", produced by DTU, and was very impressed and proud, so I chose DTU as the place where I would give wings to my dreams."
But Linh's choice worried her family, because they were afraid to let their daughter go hundreds of kilometers from home alone, without close relatives, with little experience or anyone beside her in case of illness or sadness. Even when Linh learned that she would receive a full scholarship enrolling in the Troy University On-Site Study-Abroad degree program, her parents could still not believe it. "I told them that DTU had given me very clear information about the scholarship and the education program, so it was certainly real! I understood my parents but knew what was best for me, so I stand by my choice and believe my parents will support me. The scholarship will motivate me to work hard on the journey ahead and will be an opportunity to realize the dreams I've always nurtured to study abroad," confides Linh.
She chose Hospitality because she "loves to go, learn and experience"
Linh is boisterous and adventurous, loves to travel but hasn't been far yet. Her first trip was to an organic orange farm in Quy Hop, in Nghe An at the beginning of July. The journey was the result of a chance encounter with another Tony Buoi Sang fan page member. Linh immersed herself in nature for several days, working and learning with other trainees on the orange farm.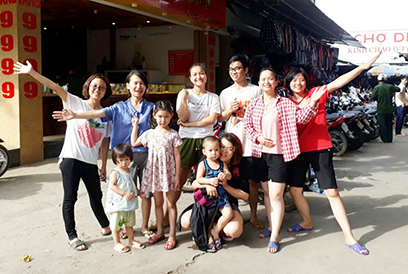 Linh (red shirt, first on the right) enjoys life with friends and relatives
While researching a variety of prospective Tourism and Hotel Management university programs online, Linh observed that: "Many DTU Hospitality students take part in exchange programs with South Korea, intern in Thailand or visit big local resorts on field trips or internships. I believe that, at DTU, I'll have many interesting trips and opportunities to experience various environments, broaden my understanding and gain useful experience, with attractive career opportunities suited to my ability and interests."
Linh's favorite quotation comes from The Alchemist: "When you want something, the whole universe conspires in helping you to achieve it." She believes that, once she walks into the DTU classroom, her family, friends, lecturers and everyone else she meets in Danang will help her realize her dreams. Right now, Linh is primarily concentrating on creating a really strict study plan for herself.
For further information please contact:
The DTU Enrolment Center at 254 Nguyen Van Linh, Danang
Hot line: 1 900 2252 - 090 529 4390 - 090 529 4391
Website: http://tuyensinh.duytan.edu.vn
Email: tuyensinh@duytan.edu.vn
(Media Center)