A National Third-Prize Student Dreams of Curing Patients and is Admitted Directly
Vo Xuan Duc is the youngest son in a family with a long tradition in medicine, who always wanted to follow in his parents' footsteps. His dream is now gradually coming true. In 10th grade he won third prize in the National Science and Technology contest with his project "Synthesis and effectiveness treating duodenal stomach ulcers of QB-16 from medicinal ingredients in Quang Binh". Xuan Duc was directly admitted to the DTU General Practitioner major in 2019.
Dreaming of becoming a doctor
Xuan Duc's parents are pharmacists and his three elder sisters also study or work in medicine and pharmacy. Xuan Duc was motivated by family tradition and explains: "My parents and sisters are very dedicated to their professions. Seeing their dedication to caring and curing and giving advice on medicine, I must follow their examples for the benefit our community."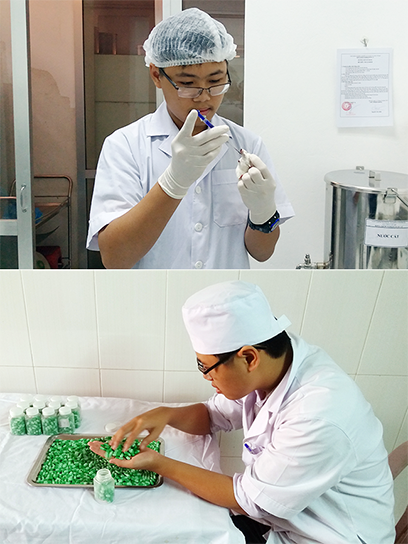 Xuan Duc researching the treatment of stomach ulcers
Xuan Duc's determination steadily grew. When he entered senior high school, he was admitted to a special Biology course at the Vo Nguyen Giap High School for the Gifted in Quang Binh province. When he then won third prize in the nationwide contest, he dedicated it to his family, as the first step on the road to his dream.
"I watched my father suffering from duodenal stomach ulcers for many years," says Xuan Duc about his project. "He took so many different medicines, antibiotics, Oriental medicine and natural foods, but his illness would always recur after lying dormant for a while. That is why I started my research. At the beginning, I had several problems, because of my limited knowledge of medicine and pharmacy. Fortunately, I consulted with my uncles, who are all PhDs, doctors and pharmacists, about my project and they enthusiastically supported me with their teaching and guidance."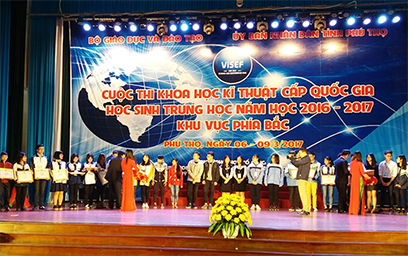 Xuan Duc receives third prize at the National Science and Technology contest
Xuan Duc looked after his father and conducted research at the same time, resolving to become a doctor specializing in stomach problems, examinations, treatment and appropriate drug usage. Xuan Duc explained: "I carefully researched the curricula and the study conditions at DTU and was delighted to find a high-quality institution and a General Practitioner program that both met my needs and aspirations," he explained.
Choosing DTU to pursue his dream
"Because this was such a big turning point in my life, I could not avoid feeling worried and anxious while weighing the pros and cons," confides Xuan Duc. "In addition, the different opinions about the quality of a public or private education still made me and others hesitate and, on occasion, my acquaintances advised me to choose a public school to be on the safe side. However, today, young people like myself think very differently. This public-private divide isn't that big an issue anymore, what counts more is to choose a reputable university with quality curricula and the ideal major, which then encourages innovative students to develop their abilities to the full."
Based on this advanced thinking, Xuan Duc spent days on the Internet researching universities. "I believe that, even though private schools have higher tuition fees, they are directly proportional to a better study environment, creative teaching methods and advanced, comprehensive international programs," he explains. "I found out that the DTU General Practitioner major was based on partnerships with courses at the University of Illinois in Chicago and the University of Pittsburgh. Also, the DTU program is one year longer than at public universities, because the first year is dedicated to learning English. This is completely attuned to my own plans, so I'm really looking forward to it."
Family, friends and teachers fully support and encourage Xuan Duc with his choice, giving him the confidence to start preparing for his important mission in life.
(Media Center)