New 2019 DTU Major in Logistics and Supply Chain Management
The use of online purchasing systems is growing rapidly, especially from online shopping sites like Lazada, Tiki, and Shopee or foreign ones, like Amazon, Taobao and Alibaba. Purchases now arrive more quickly, quality guaranteed, as the result of super-efficient, multi-link supply chains. Many DTU students in the Bachelors in Logistics and Supply Chain Management degree program also take part. Mr. Bui Duc Anh is in charge of the DTU Talent Programs and will answer some questions on this new and popular major.
Logistics and Supply Chain Management is one of the new majors that are part of the DTU Talent Programs. What can you tell us to help applicants understand these new options better?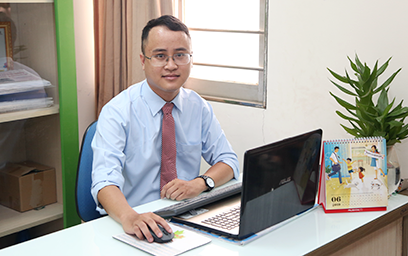 Mr. Bui Duc Anh, Head of the DTU Talent Programs
Mr. Bui Duc Anh: In 2018, DTU started teaching special Talent Programs, in addition to their many others. Talent Programs are offered to enroll highly qualified and talented students and educate them to work for our country. They will receive comprehensive training to become self-confident in their specialty, to acquire outstanding informatics and English skills, together with reasoning, creative and planning skills. DTU's objective is to use the Talent Programs to provide an education that meets international standards and graduates who are highly qualified to enter the global labor market.
Logistics and Supply Chain Management is one of the eight disciplines that comprise the DTU Talent Programs. The others are Big Data & Machine Learning, Business Administration, Marketing & Strategy Management, Financial Management, Management Accounting, Vietnamese Tourism Culture and Business Law.
Can you go into more depth about this interesting new major? Which subject sets should applicants apply with?
Mr. Bui Duc Anh: Logistics and Supply Chain Management is about researching, developing and managing transportation services for business production. Logistics involves a series of activities, such as planning, implementing and controlling the flow of goods, and overseeing raw materials. From input to output, from the origin, the input, to the final product, the output, and its arrival at the consumer. Well-executed logistics systems guarantee that services will be performed better, at lower cost, and lead to unique benefits for business and the national economy.
DTU has created an in-depth program to teach everything about supply chains, distribution systems, delivery and transportation, the creation and management of storage facilities systems and interconnections. Students learn about methods of transportation, such as road, rail and sea and a supplementary knowledge of international marketing, and finance and accounting for multimodal transportation. This involves acquiring a specialized knowledge of Distribution Management, Retail Management, Risk Management and Supply Chain Safety, Warehouse Management, Transportation Systems and International Logistics.
To apply for Logistics and Supply Chain Management at DTU, you can choose from the following formulae and subject sets:
Major

Major code

Subject sets

Based on High School Graduation Exam results

Based on 12th grade transcript

Logistics and Supply Chain Management (HP)

416(HP)

1. Maths, Physics, Chemistry (A00)

2. Maths, Natural Sciences, Literature (A16)

3. Literature, Maths, Physics (C01)

4. Literature, Maths, English (D01)

1. Maths, Physics, Chemistry (A00)

2. Literature, Maths, Physics (C01)

3. Literature, Maths, Chemistry (C02)

4. Literature, Maths, English (D01)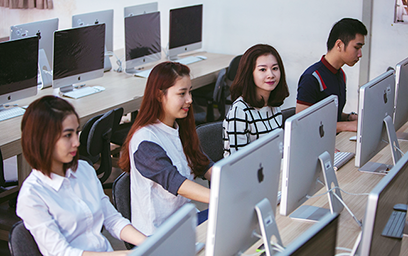 Students of Logistics and Supply Chain Management majors using the university computers
Integrating into the global economy gives graduates increasing job opportunities at major foreign companies. A crucial requirement however is that they should all speak excellent English. How can students be capable of this by the time they graduate?
Mr. Bui Duc Anh: The goal of the Talent Programs is to graduate international human resources and we have created a special training program for these students. To achieve this, they will study almost everything solely in English, with high-level lecturers from the US, South Korea, India and Taiwan. Throughout their studies, the university will also arrange for students to work at foreign companies in Vietnam and create internship opportunities by way of the Passage to ASEAN program, to broaden their knowledge, improve their foreign language skills and equip them in the best possible way for their future careers.
The recent explosion of online shopping has led to a multitude of new job opportunities for these graduates. I assume they will have no worries about unemployment, will they?
Mr. Bui Duc Anh: The plan to make logistic services a key factor in accelerating the development of distribution systems for other services, as well as for the circulation of goods, is clearly explained in the "Overall strategy on the development of Vietnam's service sector through 2020", approved by the Prime Minister in 2011. The document proves that the development of the logistics sector and its human resources has become a national program. As the national economy becomes more deeply integrated into the global economy, logistics and supply chain management systems will develop and improve, and there will be thousands of new and attractive job opportunities for graduates of this major.
Logistics and Supply Chain Management in Vietnam is considered to be a very promising field, as supply still doesn't meet demand. Consequently, graduates are sought out to fill lucrative jobs by companies such as Vinamilk, Vietnam Airlines, VietJet, Saigon Coop, Bia SaiGon, Saigon Port, Ben Nghe Port and government agencies.
How will applicants signing up for the new Logistics and Supply Chain Management degree program be favored by the special DTU skilled student enrollment policies?
Mr. Bui Duc Anh: In 2019, DTU will award 215 talent scholarships, full and partial, worth 11 billion dong in total. Conditions to obtain a scholarship are:
Applicants must have won a first, second, third or consolation prize at national skilled student contests or a senior high school prize are directly admitted to the university.
Applicants with a total 2019 High School Graduation three-subject exam score in subjects under consideration will be admitted as follows:
| | |
| --- | --- |
| Admissions criteria | Scholarship |
| Points under consideration ≥ 22 points | Full scholarship (100%) |
| Points under consideration ≥ 20 points | Partial scholarship (50%) |
DTU also reduces course tuition fees by 20% for applicants enrolling in the Talent Program majors, which encourages them to strive for the most excellent academic achievements.
For more information about Logistics and Supply Chain Management at DTU, see : Logistics and Supply Chain Management
For details, contact the DTU Enrollment Center
254 Nguyen Van Linh, Danang
Hotlines: 1900.2252 - 0905.294390 - 0905.294391
Website: http://tuyensinh.duytan.edu.vn
Email: tuyensinh@duytan.edu.vn
(Media Center)