DTU Talk Show "Vo Trong Nghia - Architecture and Zen"
On June 10, the DTU Faculty of Architecture and Fine Arts held a Talk Show entitled "Architecture and Zen" with guest speaker, Architect Vo Trong Nghia. The event was of great interest to the many DTU architecture lecturers, students and alumni who attended, as well those from other universities, because of the insight it gave them into future careers in Architecture.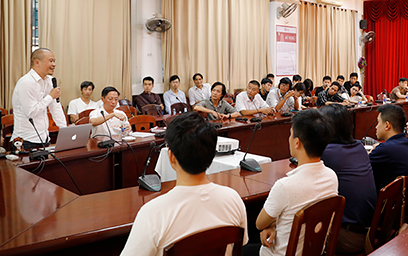 Architect Vo Trong Nghia
Mr. Nghia is an architect who has made a name for himself not only in Vietnam but internationally. After graduating with honors from the University of Tokyo, he returned to Vietnam and established the Vo Trong Nghia Architectural Company in 2006. Many of his works are highly regarded and have won prestigious prizes, such as the Prince Claus Award, the World Architecture Festival Award, the ARCASIA Award and the Green Good Design Award. His best-known designs in Vietnam include the Wind & Water Café in Binh Duong, the Chicland Hotel in Danang and the Atlas Hotel in Hoi An.
Mr. Nghia presented some of his more complex and unique concepts in a simple way and talked candidly about some of the valuable lessons he had learned in architectural design and structures, sharing his precious practical experience with his audience. Recently, he has started incorporating Zen into his creations and construction management projects and has applied the five Zen precepts creatively, in a natural and effective way. The event provided an excellent example and moral direction to ensure that the future careers of aspiring young architects will be both creative and sustainable.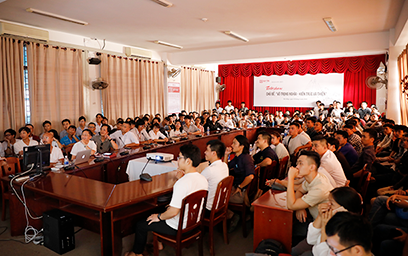 Talk Show attendees
"Zen and perception, authenticity and beauty, simplicity and effectiveness, eco-friendly, traditional and modern", this is the blend of the popular and modern teachings of Mr. Nghia. It is also the foundation of the teaching method adopted by the DTU Faculty of Architecture and Fine Arts.
Educated with these concepts, DTU students of Architecture and Fine Arts have learned much and made their mark in local and international competitions. Companies come from all over the world to hire the most promising candidates before graduation and 100% of them are offered jobs immediately, because of their outstanding creativity, bold thinking and energetic and positive lifestyles.
At the recent 2019 graduation ceremony, held at the Trung Vuong Opera House, eight magna cum laude graduates of Architecture were awarded scholarships from the An Cuong Wood Company and the Japan Organization for Overseas Studies Support, worth 5 million dong each. Many local jobs will be readily available for all, as well as jobs in overseas countries, including Japan, for them to quickly realize their dreams and aspirations.
Mr. Nghia has been invited to teach at DTU next year, covering architectural design projects, ways of using appropriate materials and structural solutions. This will serve as an advanced educational model to bring businesses and the university together, an inevitable trend in education in Vietnam today.
(Media Center)