DTU Enrolls Regular Students of General Nursing in 2019
Our interview with Master MD Nguyen Huynh Ngoc, Dean of the DTU Faculty of Nursing, will help you understand more about the important role of nurses.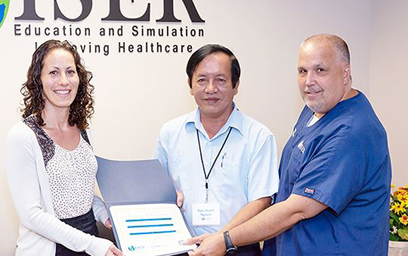 Master MD Nguyen Huynh Ngoc (middle) receives a certificate at the Simulation Training Center, University of Pittsburgh in the U.S.
Nowadays, Nursing plays an important role in healthcare. Nurses not only support patients but they also help doctors to do their jobs better. The expansion of healthcare centers has led to an increased demand for highly-qualified nurses.
Nursing is really high-pressure work due to day and night shifts. Is that the reason why many applicants hesitate to choose to study it?
MD Nguyen Huynh Ngoc: The role of medicine in society in general and the role of nursing in particular is to cure patients and bring happiness to both patients and their families. Nurses mostly have to work at hospitals and medical centers all day long. However, most students have opportunities to do internship at hospitals while they are studying at the university. Consequently, after graduation they can handle their nursing jobs and will not feel under as much stress as we think. Besides, the latest medical equipment reduces errors and decreases the amount of work from what nurses were once required to do.
In your opinion, what are the essential characteristics that nurses should have to become good ones?
MD Nguyen Huynh Ngoc: Since the work is critical to the health and well-being of many people, a good nurse should be professional, compassionate, careful and responsible. If they want to become a successful nurse, they have to make more efforts to learn and practice their knowledge and skills. During the teaching and learning process, DTU lecturers always try to help students improve their specialist knowledge. They also help students develop their soft skills including communication, teamwork, science research and professional ethics.
It's said that "Nursing is just suitable for women", so very few men choose to study Nursing. What do you think about this?
MD Nguyen Huynh Ngoc: In the past, Nursing was defined as a women's job because the good characteristics of a woman, such as gentleness, patience, carefulness and self-sacrifice, are what a nurse should have. However, this point has changed due to the expansion of the role of nurses. High-stress nursing jobs in resuscitation rooms with much modern medical equipment are more suitable for men. If students have plans to work abroad in Germany and the U.S. where patients are taller and fatter than the Vietnamese, male nurses can do better. Currently, hospitals and medical centers give priority to high-quality male nurses in recruitment.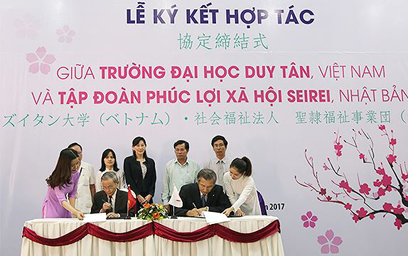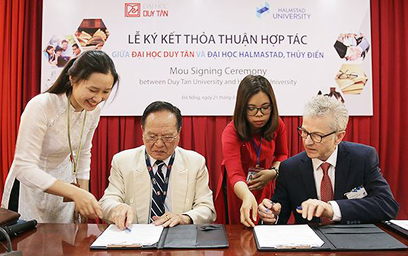 DTU has collaborated with many foreign partners to improve its education quality and give students opportunities to go abroad to study
Although there are thousands of nursing graduates each year, there is not enough qualified staff. In your opinion, what should Nursing universities in general and DTU in particular do to solve this problem? Will DTU have any solutions to improve quality?
MD Nguyen Huynh Ngoc: In 2010, DTU was the first private university and one of the few universities in Vietnam offering a Bachelor's degree in General Nursing. At the time when the number of nurses with Bachelor degrees was very low, DTU supplied qualified human resources to medical centers in Danang, Quang Nam and other provinces in Vietnam. DTU's linking programs in Nursing have also helped improve the quality of nurses working in hospitals in Danang and in the Central Highlands, Vietnam. After leaving the university, they did their jobs well and received positive feedback.
In order to achieve this result, DTU has been proactively improving the quality of its lecturers. The Faculty of Nursing has sent many lecturers to Taiwan to pursue a PhD's and Master's degree and to the Simulation Training Center of the University of Pittsburgh in the U.S. for training. Lecturers of the DTU Faculty of Nursing also attended many international conferences in Spain, Indonesia, Thailand, Taiwan, and Hong Kong and have published many research papers in international journals.
In addition, the Faculty concentrated on improving English for students and has given them opportunities to learn Chinese and Japanese so that they can do internships and work abroad. DTU has invited lecturers from the University of Ben Gurion in Israel, the University of Illinois in Chicago, Duke Medical School, and Singapore National University to teach DTU students. Especially, the Faculty has planned to teach basic subjects such as Career Orientation and Basic Nursing to first-year students to give them more passion and help them understand their job more clearly.
Improving the foreign language skills for both lecturers and students has helped them win valuable scholarships for studying and working abroad. Can you say more about the study abroad programs that the Faculty of Nursing is currently implementing?
MD Nguyen Huynh Ngoc: Although many corporations and companies from countries with high demand for nurses, such as Japan, Germany and the U.S, have recently visited DTU to recruit employees, DTU is very prudent when selecting partners to sign agreements with. Eventually, an agreement, signed with the Japanese SEIREI Social Welfare Community, gave DTU lecturers and students opportunities to work at the hospital and medical center of SEIREI in Japan. SEIREI continues to award two full scholarships (covering the fee for studying Japanese in Danang, Vietnam, and the fee for studying in Japan for two years) and some other partial scholarships (only the fee for studying in Japan). Currently, DTU is promoting collaboration with other partners from Japan and Germany to help graduates have more job opportunities.
In 2019, DTU continues awarding preferential scholarships to General Nursing students:
- DTU scholarships: 720 scholarships worth from one to five million dong each for applicants with high school graduation scores from three to ten points higher than the admission requirements, including General Nursing applicants.
- 700 scholarships worth from 500 thousand to 2 million dong each for applicants with total high school scores of 22 points or higher, including General Nursing applicants.
- Other scholarships: worth 5 million dong each for first year General Nursing students who have won consolation prizes at National Excellent Student contests or at National Science and Technology contests.
- Students from Quang Tri, Quang Binh, Ha Tinh, Nghe An and Thanh Hoa will each be awarded 1 million dong if they enroll in General Nursing.
For detailed information, please contact:
DTU Enrollment Center
254 Nguyen Van Linh, Danang
Hotline: 1900.2252 – 0905.294390 – 0905.294391
Website: http://tuyensinh.duytan.edu.vn
Email: tuyensinh@duytan.edu.vn
(Media Center)