Seminar on Vietnamese Higher Education
On June 5, DTU held a seminar entitled "A Discussion on Vietnamese Higher Education". Attendees included Mr. Bui Van Tieng, Chairman of the Danang Union of Literature and Arts Associations; Dr. Dam Quang Minh, Provost of Phu Xuan University in Hue; Associate Professor Nguyen Phong Nam, Senior Lecturer at the Danang University of Education; Hero of Labor and Distinguished Teacher Le Cong Co, DTU President; and other leading university faculty members and invitees.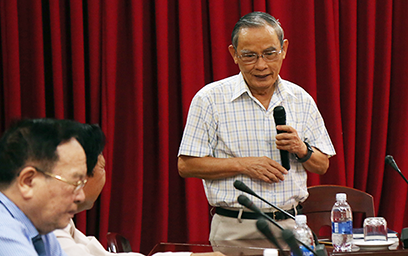 Distinguished Teacher Le Cong Co addresses the seminar
Several articles about education, especially in Vietnam, were presented. Distinguished Teacher Le Cong Co's article "Comments on education and higher education in particular" covered the role of education, from preschool to university, and was highly appreciated. He believes that a comprehensive education is the only way to train and develop talented minds in all fields of study. It broadens knowledge and thinking and shapes attitudes towards the nation and the world. Distinguished Teacher Le Cong Co furthermore pointed out that Vietnamese higher education, in particular, is currently not yet truly integrated into the global network of advanced universities, and he proposes a variety of solutions. He stressed that "Vietnamese education must continue to be upgraded to international standards, to provide a higher, sustainable standard-of-living for all." The participants wholeheartedly agreed with Distinguished Teacher Le Cong Co's belief that education should also encompass teaching family and community values, in conjunction with traditional schooling, thereby promoting a stronger sense of patriotism.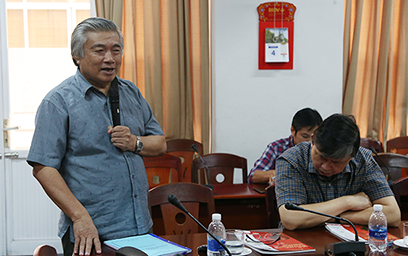 Associate Professor Nguyen Phong Nam shares his thoughts
They also admired Mr. Bui Van Tieng's thoughts in his article "Traditional education: Some experiences from senior high schools in Danang before 1975." He explained that, until 1975, education in Danang was influenced by a mixture of traditional educators and programs and emerging, more modern ones. "Traditional" here means historical, but history is like a river, always with a source and always flowing, a never-ending movement. Today is the future of yesterday and about to be the past of tomorrow, and so on, without an end. But tradition and history in education sometimes stop the flow of the river.
Associate Professor Nguyen Phong Nam raised several issues about Vietnamese higher education. "Only reform can overcome the complex problems we face, we must win back the trust of society, and work hard to deliver our country a much brighter future, through improved higher education. The key questions are what to reform, how to reform and where to reform. These questions are not new, but they are difficult to answer," he explained.
Mr. Nguyen Huu Thai had the same opinion with his article "What is the new model for Vietnamese higher education? He pointed out some of the shortcomings and barriers to success in education in Vietnam, which he compared to a chronic illness. He proposed a highly advanced higher education model, appropriate to the development phase of a new nation. The model that he proposed is characterized by a policy of building a new foundation of unified higher education management, with complete autonomy and academic freedom"
The attendees ended the seminar with the strong hope that it contributed ideas that will be useful for those formulating new plans and policies in education, and in higher education in particular.
(Media Center)