Fifth Live-streamed Enrollment Consultation: Accounting & Auditing - Opportunities and Challenges in Times of Integration
Throughout the 2019 enrollment season, Accounting & Auditing is being the major applicants are most interested in and ask most questions about. To answer their and their parents' questions, DTU held its fifth live - stream enrollment consultation on the topic "Accounting & Auditing - opportunities and challenges in times of integration" through the Facebook social network at 7 pm on June 7.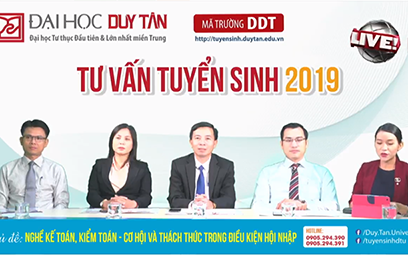 Staff, lecturers, and invitees answering questions for the fifth live - streamed enrollment consultation
Present for the fifth live - streamed enrollment consultation were Dr Nguyen Huu Phu, DTU Vice Provost; Dr Nguyen Phi Son, Head of the Undergraduate and Graduate Training Department; Dr Phan Thanh Hai, Dean of the Faculty of Accounting; and Ms Nguyen Kim Quyen, Chief Accountant at Grand Sunrise corporation.
A great many people asked questions about the conditions to study Accounting & Auditing at DTU. To answer their inquiries on this subject, Faculty of Accounting Dean Dr Phan Thanh Hai explained that, "To study Accounting & Auditing, you have to graduate from senior high school in accordance with the regulations set by the Ministry of Education and Training. Based thereon, you can sign up at the DTU Faculty of Accounting following one of two formulae: first admissions based on High School Graduation Exam results, second based on your high school transcript. These are procedural and formal conditions. To study university, the following factors are indispensable: health and a passion for the major you will pursue."
Hooked by DTU's accounting majors but not knowing which admissions formula to choose, Ngoc Oanh asked, "If I apply with both my transcript and with my High School Graduation Exam results, which one will be given preference and how will the university choose in this case?"
"DTU has three formulae to consider applications," Undergraduate and Graduate Training Department Head Dr Nguyen Phi Son answered, "first direct admissions, second based on High School Graduation Exam results, third based on high school transcript. The three methods are, however, just roads leading you to DTU. In practice, regardless of the formula, if you get admitted they all have equal priority - except in the case you are directly admitted, in which case this has priority over the other two formulae."
During the online counseling session, many applicants also wondered about job opportunities if studying accounting at DTU. "According to the statistics, over 94% of DTU students find a job after graduating," DTU Vice Provost Nguyen Huu Phu explained on the subject. "This is a quite remarkable result. To get such a high number, the university organizes a huge lot of activities, and one of these is business relations. DTU has collaborations with over five hundred businesses around Danang. Meanwhile, the school regularly holds its annual job fair to give businesses the chance to find the candidates they wish for and students the possibility to find a job position fitting their abilities and interests.
"Furthermore, throughout your studies at DTU, the university will continuously organize career orientation activities and bring you in tough with practical work. The clearest instance is the Job Fair in the morning of June 7, 2019, held at DTU with over five thousand business vacancies. Meanwhile, the number of DTU students graduating in 2019 was only a fifth of this number. Coming to accounting in particular, newly created businesses or businesses that are being restructured and even long-established ones are all in dire need of capable accountants."
Grand Sunrise Chief Accountant Ms Nguyen Kim Quyen added to this that, "Currently, large numbers of DTU students are coming to work at Grand Sunrise corporation. DTU Bachelors in Accounting in particular are currently working at the accounting department of the corporation."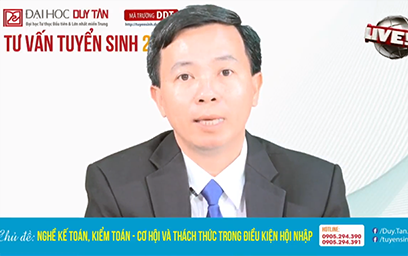 DTU Vice Provost Dr Nguyen Huu Phu answering questions
Having a common worry about the employment issue, Phan Thi Thoa asked, "Is it easy to find jobs in accounting in these times of technology?" DTU Vice Provost Dr Nguyen Huu Phu answered that, "Training at DTU stands out at one thing, which is that students are equipped not only with knowledge related to their major, but also with knowledge of English and informatics. Furthermore, to bridge the gap between the theoretical training at university and the reality outside, all students of all majors do internships at businesses to experience practical work and get an understanding of it. For accounting, DTU built its own virtual accounting practice, where you can work with the professional software specialized for accounting and administration used nowadays. This helps students not be disoriented when they join a business after graduation."
To wit, businesses have wanted accounting Bachelors with international certificates for a very long time now. This is why, early on already, DTU signed collaboration agreements with a great many prestigious organization and businesses in accounting and auditing, such as the Association of Chartered Certified Accountants, the Institute of Chartered Accountants in England and Wales, CPA Australia, the Vietnam Association of Certified Practicing Auditors, and many prestigious representatives of these organizations in Vietnam, such as Smart Train, FTMS, and Vietsourcing - to train DTU students and grant them certificates.
In addition to enrollment methods, knowledge gained, and job opportunities when studying at DTU, the advanced and international accounting programs also very much enjoy the interest of young people. Undergraduate and Graduate Training Department Head Dr Nguyen Phi Son answered the question, "Should I pursue accounting with an ordinary program or with an international program and how are tuition fees?" with, "For Accounting & Auditing there are two kinds of program: first the ordinary program and second the advanced and international program in collaboration with Pennsylvania State University or PSU for short. If you study the PSU program, you will study in a modern environment, with foreign lecturers, and you will obtain from 19 to 21 course credits for which Pennsylvania State University awards certificates. Tuitions fees, from their side, are not very different between these two programs. You can consult the page tuyensinh.duytan.edu.vn to see the specific tuition fees for each major in the 2019 enrollment season at DTU."
A great many questions were still left. However, as the broadcast is only one hour, all other worries from applicants and parents were answered right afterwards by the consultancy team of the university. The enrollment advice program will continue with weekly broadcasts, for which all interested applicants and parents are kindly invited.
(Media Center)