The 2019 DTU Graduation Ceremony
On June 8, DTU held a ceremony for 2019 Masters and Bachelor degree graduates. The DTU Board of Provosts, faculty deans, department centers, lecturers, students, families and friends attended. After four years of hard work, graduates were overjoyed to receive their degrees, as proof of their successful experience on the road of learning at DTU.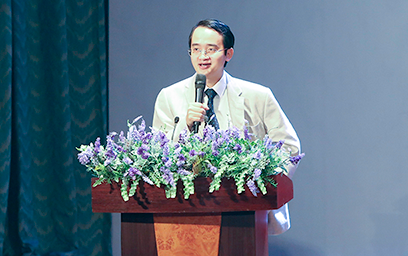 Dr. Le Nguyen Bao, DTU Provost, speaks at the graduation ceremony
Over the last 25 years, DTU has enrolled 100,972 students. 60,993 of them graduated with PhDs, Master's degrees in Pharmacy, Engineering and Architecture or Bachelor's degrees, and 8,000 with vocational high school degrees, contributing significantly to the development of the workforce in Central Vietnam and the Central Highlands especially and Vietnam in general.
"Today is a big day in your lives, as you conclude a journey of hard work in the classroom leading to excellent academic results," said DTU Provost Dr. Le Nguyen Bao. "This is also a transition point in your careers. It is the moment to make a new choice, to fly out into the world to make a living, to continue studying or to found your own business. It may be that you chose a university just as a transition but as time passes and the end draws near, you will discover that it was actually a place to absorb the necessary knowledge and skills to start your lives, a place filled with memories and emotions where your personally grew and matured."
"You may have thought that DTU was a very small school, because it is private. However, the many years of hard work by lecturers, staff and students has already affirmed our position in the world of education. This can be seen in the ever increasing number of papers published in ISI indexed journals, and partnerships to share a variety of high-quality curricula with prestigious foreign universities. In meeting both these national and international education standards, DTU has made great efforts to ensure that each and every graduate can be proud of their DTU degrees, proud to compete with students from other universities and proud to be highly valued by companies searching for new employees like yourselves."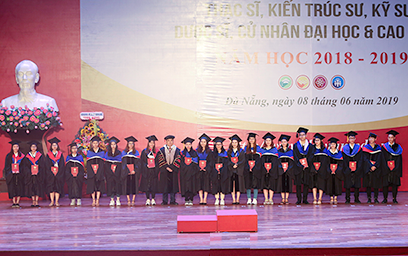 Dr. Vo Thanh Hai, DTU Vice-Provost, awards diplomas and prizes to DTU Valedictorians
1,642 students graduated this year, including 98 Masters in 3 majors and 1,533 academic Bachelors in 40 majors. 4% graduated six months early, and 3.7% graduated with the high honors.
DTU awarded 152 summa cum laude Master's and Bachelor's degrees, 33 valedictorians were awarded Certificates of Merit and 13 groups and individuals won prizes in local and international contests. Companies also awarded scholarships to outstanding students, including the Bank for Agriculture and Rural Development in Danang, with scholarships of 50 million dong to 16 students, the Japan Study Abroad Foundation, with five scholarships worth 5 million dong each and the An Cuing Wood Company, with three scholarships worth 5 million dong each.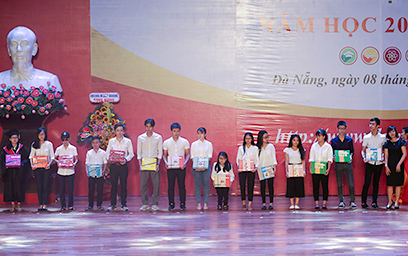 The Bank for Agriculture and Rural Development in Danang awards scholarships to outstanding students
"In the last 25 years, DTU has made unceasing efforts to create the best study, research, startup and work environment for young people," said DTU Vice Provost Vo Thanh Hai. "Today's graduation ceremony marks a milestone in the academic journey of you all. The degrees you have in your hands are the result of your own outstanding efforts, the arduous sacrifices of your parents, the advice of your loved ones, and of the hard work of lecturers and staff at the university. It may be that, on the journey to come, you will endure many trials and challenges and may fail time and time again. But never be discouraged by failure. Someone once said that failures exhaust you, others leave you dumb or make you lose faith in yourselves. I hope you will then remember that we all go through hard times in our lives, and those that do not take you down will make you stronger. I always believe that you will eventually find success and happiness. Being a genius or rich are not necessary to achieve that. I hope that you'll find the perseverance to overcome all the personal challenges and adversities in your lives and always find a way to discover the joy around you, in your work and in your lives, to always be happy."
Emotional about receiving her degree in English for Translation and Interpretation, Valedictorian Vuong Thi Thuy Tien, from Foreign Languages, gave a speech on behalf of the new graduates. "Our four years at DTU have sped by, and now we're about to take leave of our beloved school to venture out to start our careers," she said. "At this momentous point in time, we're deeply moved when looking back at our teachers, our sad and happy memories and the difficulties and challenges in our studies at of our beloved DTU. Throughout our time here, our struggles were addressed with concern and guidance from the university leadership and by the dedicated teaching of our experienced lecturers. While we were being educated, they also set a moral and personal example for us all. This evening we will say goodbye to DTU and start a new journey. The road will be full of obstacles and challenges, but we'll confront them as DTU students. Victory does not make us swagger, failure does not bring us down, nor does adversity send us into retreat."
(Media Center)