DTU Offers a new Office Administration Major
Office administration is vital in any business. Government agencies, private businesses and organizations are under development or expanding operations rapidly and the new major will prove to be an attractive choice to address the dearth of human resources in the field. DTU officially began offering an Office Administration major in 2019, to meet student requirements and graduate highly-qualified staff with foreign language skills.
Office administration is more than paperwork
People used to think that administrative office work was just eight hours a day in an office, classifying, organizing and copying paperwork, as well as stamping and archiving legal documents. However, new times of integration and the increasing diversity of business operations have led to demand for dynamic new professionals, capable of undertaking work that includes many more functions and responsibilities, which are now changing the nature of business in general. In addition, office administration staff now have new responsibilities, such as:
-
Receiving and welcoming visitors
-
Organizing events and meetings
-
Communicating and promoting the image of the business
-
Information systems administration
-
Corporate infrastructure management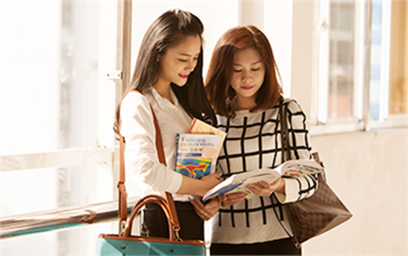 Dynamic DTU students meet business requirements
Office administration staff must create management and implementation plans and have coherent ideas to record and archive documents systematically. They must also be able to communicate well, speak English, deal with problems and use the latest office management technology.
A current educational concern, however, is many office workers today studied different majors and are lacking the necessary professional skills. Very few universities offer this major, so supply does not meet business demand. Companies use up valuable time retraining graduates in the essential, specialized skills. Before DTU began DTU offering this major, a careful and comprehensive investigation was carried out on types of curricula necessary, the quantity of graduates required each year and their required qualifications.
"Office Administration is a highly attractive major nowadays," explained Mr. Nguyen Huy Tuan, Acting-Dean of Business Administration, "especially for those with a talent for organization, management and administration, with self-confidence, diplomatic skills and a love for dynamism and creativity. In these times of integration, strong economic development and the arrival of many foreign businesses, NGOs and others, excellent new, highly-paid career opportunities have arisen. To be able to work truly professionally, however, staff today need to graduate from this new and specialized education program at DTU. Only then can their work be efficient and sustainable."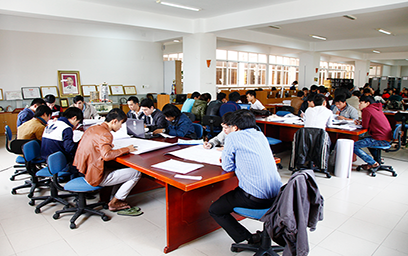 DTU students study and research in modern, well-equipped libraries and classrooms DTU
Advanced training methods with many internship opportunities
CDIO: for Technology and Engineering majors
PBL: for Economics, Management, Health Science and Social Science and Humanities majors, interactively, to promote independent study and research, such as:
-
Q&A, according to course logic
To prevent graduates from feeling out of place in their first jobs, the DTU Faculty of Business Administration has partnered with companies in Danang, where students can do practical internships. These include:
-
Karuto Trade & Services
-
Vietcapital Commercial Joint Stock Bank
-
Sai Gon Commercial Joint Stock Bank
(Meida Center)