Seventh Live - Stream Enrollment Consultation on the topic: Architecture, Fine Arts, and Construction in Industry 4.0
In the evening of June 14, DTU broadcast its seventh live - stream enrollment consultation on the topic Architecture, Fine Arts, and Construction in Industry 4.0, to answer questions from applicants and parents with an interest in these fields. Answers were provided by Dr Nguyen The Duong, Dean of the Faculty of Civil Engineering; Dr Le Vinh An, Dean of the Faculty of Architecture and Fine Arts; MA Luong Xuan Hieu, Vice Dean of the Faculty of Architecture and Fine Arts; and MA Tran Thanh Binh, Head of the Graphics Division.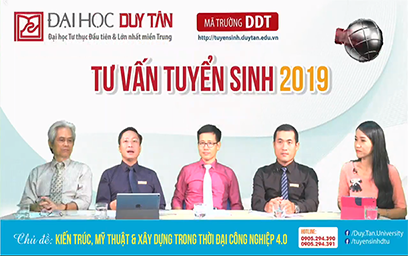 Seventh live stream about Architecture, Fine Arts, and Construction in Industry 4.0
To open the live stream, DTU provided applicants and parents some basic information about architecture, fine arts, and civil engineering with an introductory video clip about the Faculties of Architecture and of Civil Engineering. In it was explained that DTU offers majors in Architecture, Interior Design, Civil & Industrial Engineering, Road & Bridge Construction, Construction Engineering Management, CSU standard Civil & Industrial Engineering, CSU standard Architecture, and Graphic Design/Games/Multimedia.
Students pursuing architecture or engineering at DTU have the opportunity to study with leading advanced and international curriculums from the US. They are the result of collaborations between DTU and California State University (CSU) Fullerton (one of the leading public universities on the US West Coast) and Cal Poly San Luis Obispo (ranked fifth in civil engineering training in the US). In 2010 -2011, these were the first advanced and international programs in architecture and engineering in Central Vietnam. DTU graduates obtain from 19 to 21 globally recognized course certificates.
For the enrollment advice session, the DTU lecturers answered many questions from applicants and their parents about architecture, fine arts, and construction.
Hai Nam Ho's question "Is it possible to apply for Architecture based on transcript and what are employment opportunities after graduation?" was answered by Dr Le Vinh An and MA Luong Xuan Hieu: The DTU majors of Architecture uses two admissions formulae: transcript and High School Graduation Exam results. Artistic drawing points are multiplied by two, and applicants can take the drawing exam DTU organizes on June 29 and 30, 2019, or use their results from artistic drawing exams at any other university anywhere in the country. Concerning employment, students of architecture and engineering alike get many attractive job opportunities already when still in the school banks. DTU furthermore just signed a memorandum of understanding with the Japan Organization for Overseas Studies Support, which offers students additional opportunities to do internships and work at Japanese companies active in Vietnam or Japan.
Someone with Facebook nickname Han Di asked, "If studying civil engineering at DTU, at which companies can we do internships later?"
Dr Nguyen The Duong answered: Students of civil engineering at DTU do three internships, among which the graduation internships carries most weight. You can do internships at any company active in civil engineering in Danang or in several other cities, like Hanoi and Ho Chi Minh City. Through these internships, students experience a real work environment and undertake the work of real engineers. Many companies have links with the university's Faculty of Civil Engineering to welcome its students and support them financially when they do internships.
Following the enrollment live stream since its first installment, many applicants sent questions beforehand to ask about issues like, "Why does the Graphic Design admissions formula at DTU not consider points for drawing?"
MA Tran Thanh Binh answered: DTU does not consider points for drawing to give a chance to applicants with good academic results for other subjects but who have a passion for graphic design. Being good at drawing is an advantage, but it is not a prerequisite. Students of Graphic Design at DTU are taught to draw, from simple to complex drawings, and their skill at drawing will gradually improve. So no worries there.
Interested in the programs from international collaboration, Nga Nghi asked, "What are the features of the advanced program in Architecture?"
Dr Le Vin An answered that the DTU advanced program in Architecture, also called CSU programs, are in collaboration with Cal Poly. Students of this program can obtain globally recognized course certificates, study many subjects completely in English with high-level lecturers from the US, and train their foreign language skills and creative thinking to much higher levels. In addition to the advanced program, there is also the normal DTU program in Architecture geared towards international accreditation standards. The university has collaborations with several universities in South Korea and Japan to use their international-standard curriculums to amend and supplement its own.
Many additional questions about admissions scores, tuition fees, scholarships, efficient study secrets, and many other issues were also enthusiastically answered by the DTU lecturers.
The eighth live-stream enrollment consultation about "Professional Opportunities in Management, Finance & Banking, and Marketing" will be broadcast at 7 pm on June 18, 2019, through the DTU fan page. Watch it and listen to the advice and answers from DTU lecturers, to make sure you choose a major that is appropriate for you!
(Media Center)