The Attraction of a Career in General Nursing Today
The increasing international demands on the healthcare industry nowadays affirm the growing importance nurses in the treatment and support of patients in our community. Many universities have focused on improving their General Nursing education and DTU continues to supply highly-qualified and dedicated staff to national and international medical centers.
Graduating highly qualified professionals
A good nurse must be professional, compassionate, careful and responsible, because their work is critical to the health and well-being of many. Nursing students must learn enough to solve all types of problems. They must also know how to operate equipment and practice at hospitals and medical centers to gain experience and improve their skills. The DTU Faculty of Nursing has assembled a professional team of highly experienced lecturers, together with special classrooms and the latest equipment to provide the ideal study and work environment.
DTU students share modern laboratories with students in the General Practitioner and Odonto-Stomatology programs and work in teams on special projects.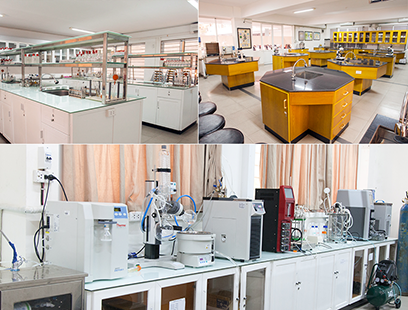 DTU Nursing and General Practitioner students work together
Doctor Nguyen Huynh Ngoc, Dean of the DTU Faculty of Nursing, said: "It is hard to become a good nurse. DTU is making every effort to help its students learn more and build a strong foundation for future careers, at the same time improving their 'soft' skills, such as: communication, teamwork, research and ethics, by attending charitable events at hospitals and in the community."
DTU partners with the University of Illinois and the University of Pittsburgh to share curricula and invites American lecturers to come and teach, as well as others from the Ben Gurion University of the Negev in Israel and the Duke-NUS Medical School in Singapore.
Nursing students can therefore access advanced training programs from all over the world, as well as practicing at hospitals locally and throughout Vietnam to meet their study and practical needs.
Golden opportunities for DTU Nursing students
Recently, DTU has welcomed healthcare representatives from Japan, Germany, the USA and Switzerland to investigate even more long-term relationships and career opportunities.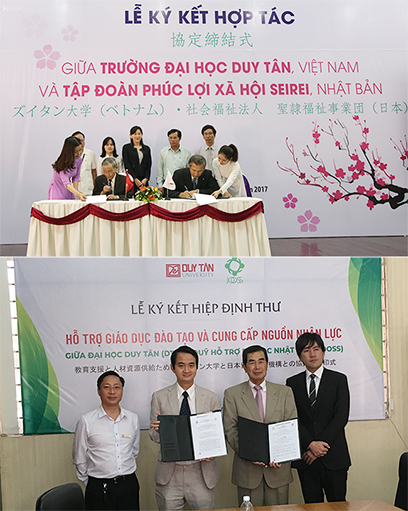 DTU signs agreements with several Japanese partners in Nursing
DTU partners with:
• The SEIREI Social Welfare Community in Japan, for career orientation, training and the transfer of DTU Nursing lecturers and students to Japan for advanced education.
• Halmstad University in Sweden, for exchanges, scholarships and technology transfers.
• With JOOSS, who offer Nursing, IT, Electrical Engineering and Civil Engineering students annual 6 to 12 month internships in Japan.
• The Suganuma Group in Japan and LC Partners, to offer 30 scholarships annually for overseas studies and internships.
In this way, DTU Nursing students can enhance their work skills in developed countries and come back to improve the nursing and healthcare system in Vietnam and here in Danang.
Ms. Yuko Kamata from the SEIREI Human Resources Department said: "Our agreement with DTU will enable students to receive SEIREI scholarships, learn Japanese and use their knowledge to work in Japan. Our country has an increasingly aging population, so we are already addressing this problem by improving the quality of Nursing education and technology. We will strongly support you in your career ambitions and know that our relationship will progress even further."
Japan is facing the fastest aging rate in the world and seriously lacks nurses. The Japanese government has been promoting partnerships and bringing in foreign nursing staff, who will receive exceptional benefits and salaries.
In 2019, DTU continues awarding preferential scholarships to General Nursing students:
- DTU scholarships: 720 scholarships worth from one to five million dong each for applicants with high school graduation scores from three to ten points higher than the admission requirements, including General Nursing applicants.
- 700 scholarships worth from 500 thousand to 2 million dong each for applicants with total high school scores of 22 points or higher, including General Nursing applicants.
- Other scholarships worth 5 million dong each for first year General Nursing students who have won consolation prizes at National Excellent Student.
contests or at National Science and Technology contests.
- Students from Quang Tri, Quang Binh, Ha Tinh, Nghe An and Thanh Hoa will each be awarded 1 million dong if they enroll in General Nursing.
For further information please contact:
The DTU Enrolment Center at 254 Nguyen Van Linh, Danang
Hot line: 1 900 2252 - 090 529 4390 - 090 529 4391
Website: http://tuyensinh.duytan.edu.vn
Email: tuyensinh@duytan.edu.vn
(Media Center)