DTU Students Awarded Keuka College Graduation Certificates
On June 9, DTU and Keuka College, in New York State in the US, held a graduation ceremony for 19 new ADP graduates. This was the first-ever On-Site Study-Abroad program to award American degrees in Business Administration and and another four of ADP students will receive graduation certificates from Keuka College after transferring there for their final year.

Dr. Amy Storey, Keuka College Provost, awards graduate certificates to DTU Valedictorian
Nguyen Thi Thanh (left photo) and foreign student Trish Maguta
The program offers a Business Administration major with two accreditations:
-
School: Regionally accredited by the Middle States Commission of Higher Education
-
Curricula: IACBE (International Accreditation Council for Business Education)
-
Tuition fee: 29.3 million dong per semester, or $2,500 a year
-
Advantage: Associate Professor Gary Giss, Dean of Asian International Programs at Keuka College is the visiting lecturer
Hero of Labor and Distinguished Teacher Le Cong Co, DTU President, Dr. Le Nguyen Bao, DTU Provost, and DTU Board welcomed Dr. Storey, Provost of Keuka College, Professor Tim Sellers, Vice-Provost, and Associate Professor Gary Giss awarded the Graduation Certificates.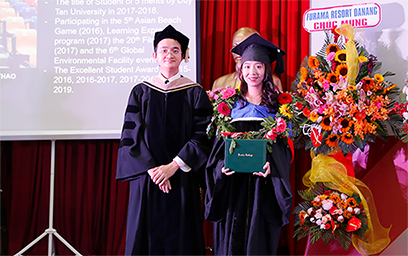 Dr. Le Nguyen Bao presents flowers to Nguyen Thi Thanh Thao
Dr. Storey commented: "It is this breath-taking Keuka College graduation ceremony that I enjoy most of all. Despite the fact that we live thousands kilometers apart, our students and parents in Vietnam are always important members of the Keuka College community. We are here to share the joy with each other on this special day, on the road to lives full of happiness and success. We will become good citizens and make every contribution we can to Vietnam's development. Success in your careers and lives will bring great pride to Keuka College".
Nguyen Thi Thanh scored 28.25 on entry in 2015 and became a DTU valedictorian. She is now graduating with High Honors. Meanwhile, Nguyen Thi Thanh also won the 2018 Women in Business Award at the Go Green contest in Atlanta. Trish Maguta, from Zimbabwe, won third prize at the 2018 CDIO Academy in Japan with her Automatic Delivery project, while she was a third-year ADP DTU student partnering with Keuka College.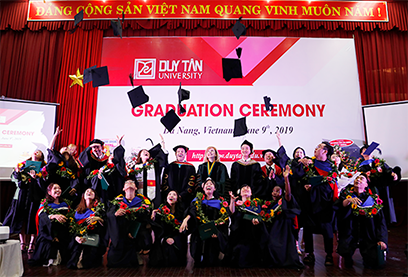 Keuka college, DTU lecturers with new graduates
Nguyen Thi Thanh said emotionally: "We will have many unforgettable memories of DTU which will always carry with us. During our studies, we received much encouragement from our dedicated and experienced lecturers, family and friends. I could not have earned an accredited American degree without their support. The road ahead will be full of obstacles and challenges, but we are confident that we can overcome them to realize our dreams".
Trish Maguta said: "Besides offering high quality academic programs, DTU impresses foreign students like myself with such highly-experienced lecturers. I have been looking forward to attending this graduation ceremony for a long, long time and I would like to thank everyone for their enthusiastic and dedicated support, as well as and our families and friends, who have all enabled us to fully concentrate on studying."
DTU Provost Le Nguyen Bao confirmed: "Today is a big day in your lives, as you conclude a journey of hard work in the classroom with excellent academic results. This is also a transition point in your careers. It is the moment to make a new choice, to fly out into the world to make a living, to continue studying or to start your own business. Supporting your efforts were the many years of hard work of our DTU lecturers and staff, who have already affirmed our position in the world of education. This can be seen in the impressive achievements in research, international collaborations and accreditations. DTU has ensured that each and every graduate can be proud of their DTU degrees, proud to compete with students from other universities and proud to be highly valued by employers and family."
In addition, DTU offers an On-Site Study-Abroad Hospitality and Hotel Management IT program, in collaboration with Troy University in America.
For more information, please contact:
DTU Enrollment Center
254 Nguyen Van Linh, Danang
Hotline: 1900.2252 – 0905.294390 – 0905.294391
Website: http://tuyensinh.duytan.edu.vn
Email: tuyensinh@duytan.edu.vn
(Media Center)