Job opportunities for Students majoring in Chinese
In 2019, DTU enrolls Chinese language students and awards many scholarships.
English is a widely spoken language, but it is not the "hegemon" among languages due to globalization. Young people can find good jobs and know more about new cultures if they learn another foreign language such as Chinese, Japanese or Korean.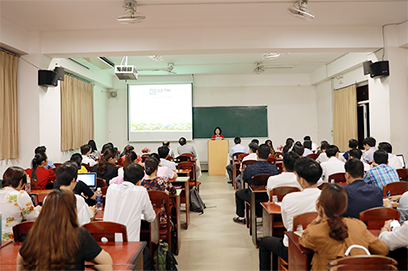 DTU's Chinese language program focuses on real-world skills
Companies are eagerly seeking good Chinese speakers
According to the General Statistics Office of Vietnam, the number of Chinese tourists to Vietnam is about 400,000 visitors per month and over 5 million per year. In Central Vietnam, Danang is one of the most favorite destinations for Chinese tourists. With stable numbers of Chinese tourists and businessmen, there is a big demand for people good at Chinese.
The signing of international trade agreements and the "open door" policy of Vietnam has brought a lot of investment from many foreign investors, enterprises and multinational companies including Chinese ones. Many big corporations, companies, factories, and industrial zones have been eagerly looking for people fluent in Chinese, especially bridge system engineers, interpreters, translators and managers. Therefore, the demand for people who can speak Chinese fluently has increased in recent years. However, the demand for Chinese speakers is not only outpacing supply, but the quality of Chinese speakers is also not adapted to the labor market.
The Chinese program at DTU concentrates on real-world skills
Having taught Chinese for a long time, the DTU Faculty of Foreign Languages, with its highly-qualified and experienced lecturers, has officially opened a Chinese program. DTU partnered with many universities in China to give students opportunities to:
+ transfer to another university
+ exchange culture
+ receive scholarships
DTU also regularly invites lecturers from China and Taiwan to teach DTU students.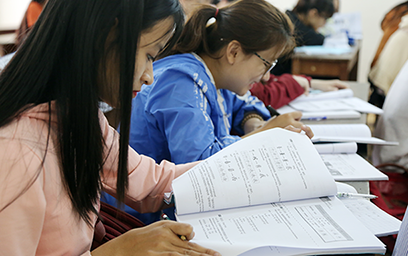 A lesson of students majoring in Chinese language at DTU
DTU offers:
+ Chinese Translation & Interpretation
+ Chinese for Tourism
to supply society with good graduates who can quickly adapt to any environment, can solve problems and listen, speak, read and write Chinese well (with at least an HSK level 4).
Students also learn about Chinese culture and society and learn many soft skills such as:
+ Communication
+ Problem solving
+ Teamwork
+ Presentation
Graduates will be able to pursue further studies, rapidly adapt to any work environment, execute tasks assigned to them perfectly and become executives, managers and leaders in their field.
Job opportunities
Currently, Chinese speakers are still sought by companies and can get high salaries and good perks due to the ongoing shortage. The recruitment demand of companies in Danang, such as Crowne Plaza, the Hoi An Casino and SunGroup, is very high, and demand is still outpacing supply. Consequently, graduates of Chinese will have a variety of job opportunities, such as:
+ Translators, interpreters and editors in public or private companies.
+ Secretaries and assistants in joint venture, or foreign companies.
+ Tour guides in travel companies
+ Officers in areas such as foreign relations, trade, import-export, tourism with foreign partners.
In 2019, DTU will award the following scholarships to Chinese Language applicants:
+ DTU Scholarships: 720 scholarships worth more than 1 billion dong for applicants, including Chinese language, with a total High Graduation Exam three-subject score three points higher than the admissions minimum.
+ 700 Scholarships worth more than 1 billion dong for applicants, including Chinese language, with a High School transcript score of 22 or higher.
+ Scholarships worth 5 million dong each for first-year Chinese language students who obtained a Consolation prize in a National Excellent Student contest or in a National Science & Technology contest.
(Media Center)