Student with a score of 27 Admitted to the DTU Tourism & Hotel Management Major
A great many students with impresive scores in the 2019 High School Exam apply to DTU currently.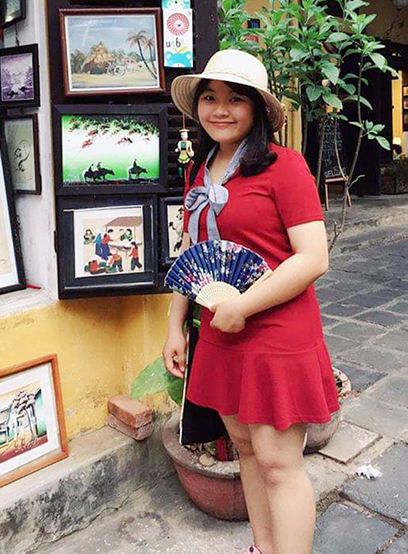 Tran Thu Ha in Hoi An
Among them, Tran Thu Ha from Quang Binh scored 27/30 points, with 9.5 for Geography and 9 for History. She enrolled in the DTU On-Site Study-Abroad program in Tourism and Hotel Management, in collaboration with Troy University, leading to a US degree and will meanwhile receive a full four-year scholarship.
Studying History is more than rote learning
Thu Ha's best score was in Geography, although she won most prizes in History, which is a difficult subject to study and History students cram day-and-night to prepare for their High School Graduation exams. At the Le Thuy High school she had an uncanny passion for History and won second prize in 11th grade and a third in 12th grade in the provincial skilled student contest.
"People say that History is just rote memorization of numbers, dates and facts," says Thu Ha, "but I believe that, for long-term recall, we should have a clear understanding of the nature and meaning of each event. I always read and reread each lesson several times and search for related information in books, newspapers, the internet and movies."
Thu Ha loves watching historical movies, which is a clever way of engraving knowledge into her mind. When she watches a movie about a particular dynasty, for example, Thu Ha will research information about that dynasty, its emperors and key events. The same goes for other subjects. To be academically successful requires acquiring knowledge from many different sources, in addition to the textbook, and knowing how to select the appropriate information.
It is possible that Thu Ha has become nostalgic with her love of history, but this is not the case at all. She loves being active and contemporary and has some very practical ideas about community needs. This led her to choose the Tourism and Hotel Management major.
Thu Ha decided to study in Danang. "I see that Hospitality and Services is an extremely popular course, with much future potential," she explains. "Recently, the rapid development of Danang has accelerated the growth of the Hospitality sector at impressive speed."
Qualified graduates will find excellent jobs
Choosing a suitable university requires much research, consideration and deliberation. After investigating many places, Thu Ha decided on DTU. "The facilities are modern, with specialized classrooms and a mini-hotel for practical training. The courses offered are quite diverse, with ordinary programs, advanced, talented, On-Site Study-Abroad and overseas exchange programs to choose from."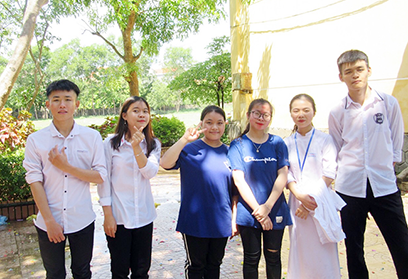 Thu Ha (third from left) with her best friends for seven years
"We, ourselves, are the most important people in our lives," says Ha. "If we always work hard, we will develop and succeed in any environment." Thu Ha was even more joyful when her admission to DTU was accompanied by a full scholarship.
(Media Center)