Student with Highest Geography Grade in Quang Nam Province Admitted to First Choice University DTU
Recently, Nguyen Thi Vang's small house, in Dien Duong commune, in the Dien Ban district of Quang Nam province, has been inundated with laughter and congratulations from teachers and neighbors because of Vang's impressive results.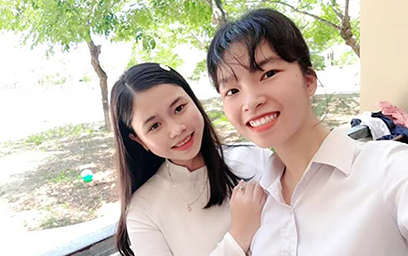 Nguyen Thi Vang (left) and her close friend
Overcoming situation out of passion for learning
"My parents are workers, with a very low income, having to feed the four of us and pay for our schooling," explains Vang. "My eldest sister was also accepted by a university but, out of pity for our parents, she abandoned her study plans and started working to support us. So, not wanting to disappoint my parents and sisters, I managed to be accepted to the provincial high school for the gifted, and then attempted to obtain a university scholarship. I always thought that only hard study would allow me to do the work I dreamt of, earn enough to help my parents and allow my younger sisters to study also. So I can now dedicate my initial success to my excellent teachers and the encouragement and support of my family."
Nguyen Thi Vang was interested in Social Sciences. Without special tutoring, she diligently studied, mostly independently. With perseverance and awareness, she accumulated information from her classes, from the valuable books of her parents and others she borrowed from friends. These rare books caused her to surprise teachers and friends alike with her accomplishments, including a consolation prize at the Northern Vietnam Coast and Delta Olympiad and third prize in the provincial Skilled Student contest for High Schools for the Gifted, in 2018 - 2019.
On the subject of study secrets, she said, "I don't put too much pressure on myself or try to cram and learn things by rote without understanding. Instead, I always listen attentively to what my teachers say and study mostly from textbooks and additional class materials. In my writing, I try difficult exercises to perfect my writing skills and literary sensitivity. In history and geography, in addition to understanding the key points of each lesson, I learn from multiple-choice exercises in workbooks and broaden my outlook with the media. I study with a passion and interest, I am under no pressure and am happy and relaxed when studying.
Studying Hospitality at DTU to become a tour guide
Nguyen Thi Vang dreams of becoming a tour guide. "I want to learn more about the cultures of the different regions of Vietnam, introduce those places to foreign tourists and discover and experience new countries around the world," explains Vang. "This is why I chose to study Hospitality. With advice and encouragement from my teachers, I researched information on DTU and its standard PSU Tourism and Hotel Management major. With this, I planned to score high marks in Literature, History and Geography for a full four-year scholarship."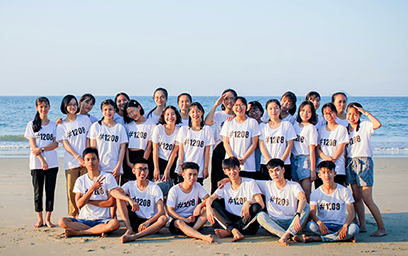 Nguyen Thi Vang (third from left)
Her high grades gave Vang a wide choice of universities. She chose DTU however because, "I regularly follow DTU's live stream broadcasts and I found out about the advanced Pennsylvania State University program PSU is one of the leading American universities in Economics and Business Administration in the US. In this type of environment, I can learn anything I want, at an international standard, right here in my home country. If I'm successful, I can then transfer to PSU or another US university to study and graduate with an American degree, guaranteeing me a brighter future. That is why I hesitated no longer and signed up right away."
With her youth, energy and ambition, Vang has the necessary strength to realize her dream of becoming a tour guide and supporting her family. Her future studies will be long and challenging, but soon, in this ideal environment, she will definitely succeed.
For further information please contact:
The DTU Enrolment Center at 254 Nguyen Van Linh, Danang
Hot line: 1 900 2252 - 090 529 4390 - 090 529 4391
Website: http://tuyensinh.duytan.edu.vn
Email: tuyensinh@duytan.edu.vn
(Media Center)