Many Ways that Students can enroll for the DTU Bachelor of Pharmacy course
At many universities, the average admission scores for Health Science majors are always higher than other disciplines, which benefits the community when they graduate. In 2019, to manage the increasing number of applicants, DTU offers enrollment based on National High School Graduation Exam scores of 20 or higher, a High School Transcript three-subject score of 24 points or more or an excellent 12th grade average score of 8.0.
DTU is one of the few universities offering a Bachelor in Pharmacy degree in the Central Region. Pharmacy is quickly becoming a very popular major, with more and more applicants. New students learn all about the course and career prospects at the enrollment orientation session. On graduation, pharmacists are increasingly "head-hunted" for various positions at drug preparation and production companies, in sales or as clinical drug specialists at local hospitals and health centers.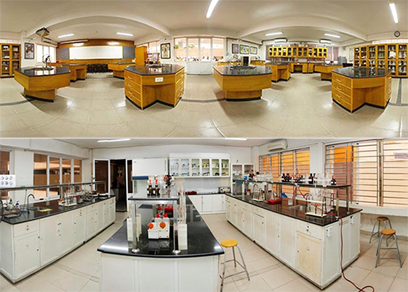 Students study in DTU's state-of-the-art practice labs
Choosing a respected university with a modern study environment
Associate Professor Nguyen Ngoc Minh, DTU Vice- Provost in charge of Health Sciences education said: "A lot of applicants have called us since the Bachelor in Pharmacy program began seven years ago, wanting a clearer understanding of the DTU majors, admission policies and incentives. This proves that DTU has gradually gained prestige in educating skilled healthcare workers to supplement local resources.
DTU started offering health sciences courses ten years ago and celebrates its 25th anniversary this year. Meanwhile, our Pharmacy lecturers are working hard to improve the quality of education and motivate the students to learn as much as possible about the latest advances in the field."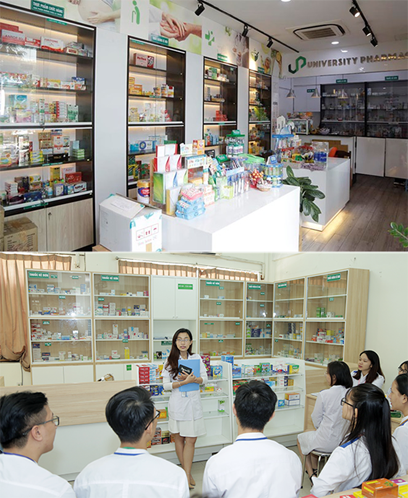 Students train in the DTU University Pharmacy
DTU has achieved much internationally through its partnerships with well-known, leading universities in many different majors, to share curricula and bring teaching and study methods up to date. The university collaborates with two major American universities, the University of Illinois in Chicago, which has the most comprehensive program in Medicine and Nursing in the US, and the University of Pittsburgh, a leader in Health Science.
DTU has established a system of 18 modern Medicine and Pharmacology labs for research into physiology and immunology, embryology, medicine preparation, testing, chemistry and pharmacy practice and industrial pharmacy. They are the Biochemistry, Histology, Microbiology, Immune Physiology labs and the MedSim Center
DTU adopted the PBL teaching method in the Health Sciences several years ago. PBL is an advanced training method applied in the life sciences and health sciences at many of the world's leading universities.
In addition, DTU has signed agreements with local hospitals, such as the Danang Center for Odontoid-Stomatology, the Danang C Hospital, the Danang General Hospital, the Ministry of Public Security 199 Hospital, the 17 Military Hospital Region and the General Hospital in the highlands of northern Quang Nam, to offer practical clinical experience with a wide variety of patients. Interestingly, the DTU Pharmacy was created not only for retail activities but also for students, especially from pharmacy students, to learn and work.
Finding well-paid jobs
Because of the urgent need for qualified pharmacists, graduates will have excellent job opportunities, with attractive salaries beginning from 8 to 12 million vnd per month. Later on, with experience, they can earn up to 35 million.
Admission information
Major

Major code

Subjects

High School Transcript

(12th-grade results)

High School Graduation Exam Grade

Bachelor in Pharmacy

7720201

1. Maths, Physics, Chemistry (A00)

2. Maths, Chemistry, Biology (B00)

3. Maths , Biology, Literature (B03)

4. Maths, Literature, Chemistry (C02)

1. Maths, Physics, Chemistry (A00)

2. Maths, Natural Sciences, Literature, (A16)

3. Maths, Chemistry, Biology (B00)

4.Maths, Biology, Literature, (B03)
Tuition fees information
Program

Tuition fees/ semester

Ordinary program

8.8 million dong

Advanced International programs

9.6 to 12.6 million dong

Talent program (A 20% reduction for the whole course)

8.8 million dong

American On-Site Study-Abroad degree program

29.3 million dong

Study-Abroad program (America, UK, Canada)

22 million dong

Vietnam & Japan collaboration program

10.3 million dong

Bachelor of Pharmacy

15.2 million dong

General Practitioner; Doctor of Odonto-Stomatology

26 million dong

*Note: two semesters per year
For detailed information, please contact the DTU Enrollment Center
254 Nguyen Van Linh, Danang
Hotlines: 1900.2252 - 0905.294390 - 0905.294391
Website: http://tuyensinh.duytan.edu.vn
Email: tuyensinh@duytan.edu
(Media Center)