Career Opportunities in Japan for DTU Nursing Students
On July 30, representatives from two hospitals belonging to LC MediCom Inc. conducted interviews and awarded scholarships and cash stipends to 29 senior Nursing students to study Japanese.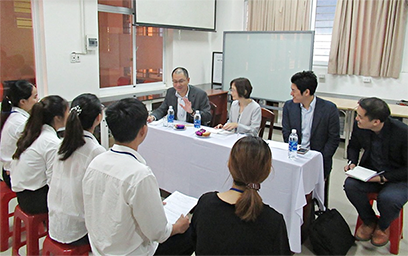 DTU students attend the LC MediCom interview
Of these, 13 students were selected and received job offers upon their graduation in June 2020. The 16 others will be interviewed by other hospitals belonging to LC MediCom in late August.
Curently, LC Medicom owns 24 hospitals and 3 nursing homes. After their internships, the students will work in those hosptitals as nursing assistants, for three to five years. The Suganuma Corporation will provide each of them with visa fees, flight tickets, free accommodation and 159,000 Japanese yen, or 32 million dong, per month. LC Medicom will also provide Japanese staff to teach the students the Japanese language and culture.
The collaboration with the Sugaruma Corporation and LC Medicom is aimed at expanding the nursing and caregiving resources in Vietnam and opening up a real-time foreign work environment to increase the potential for careers in Japan.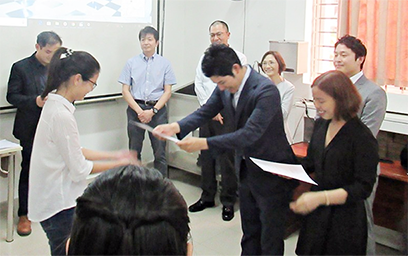 Representatives of two LC MediCom hospitals award scholarships to DTU students
Nguyen Thi Hong Hanh, Vice-Dean of DTU Faculty of Nursing, said: "Working in a developed country with healthcare system like Japan's, our students will broaden their knowledge and professional skills. Meanwhile, they will also be able to take the National Certificate Examination. If they pass, the nurses will also be granted Japanese certificates and work long-term there with excellent salaries. These highly-qualified nurses will also be a credit to Vietnam's development and international integration."
Le Nguyen Quynh Ha, a Nursing student of K22YDD3, said: "I was so happy to pass the interview. At DTU we received a fine education, with several joint study and work programs to expand internship and career opportunities. I will work hard to improve my Japanese and other qualifications to prepare myself for the cultural and language challenges of living in Japan."
Currently, foreign nurses and caregivers are only allowed to work in Japan under bilateral economic partnership agreements, which so far have only been signed for Vietnam, Indonesia and the Philippines.
(Media Center)