DTU Welcomes the 25th Freshman Class and Honors Valedictorians
On September 9, DTU opened the new 2019 academic year with a welcoming ceremony marking the 25th annual freshman enrolment, attended by Mr. Kongma Vongsengchanh, the First Secretary of the Lao Consulate General in Danang, local companies and others.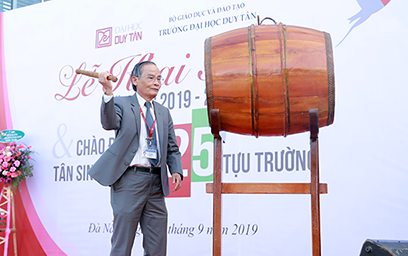 Hero of Labor, Distinguished Teacher Le Cong Co, beats the ceremonial drum
On behalf of DTU Board, Dr. Le Nguyen Bao, DTU Provost, stated that the university has been concentrating on delivering a high-quality, international educational environment, to stimulate and promote student creativity and ability.
Tran Thu Ha scored 26.5 on her High School Graduation exam, enrolled in the On-Site Study-Abroad program in Tourism & Hotel Management for an American degree from Troy University and was awarded a scholarship. Ngo Thi Thu scored 24. 5, enrolled in the PSU Major in Tourism and Hospitality Management was also granted scholarship.
DTU also gave awards to leading enrollees and welcomed foreign students from Myanmar, the Philippines, Taiwan and South Korea, who will study at DTU or participate in exchange programs. Thirty Laotian students enrolled in the four-year Talent programs.
(Media Center)