DTU Ceremoniously Opens Academic Year 2019–2020 and Welcomes 25th Freshman Class
DTU was overjoyed to welcome the freshmen of the university's 25th classes. As DTU is about to celebrate its 25th anniversary, this year's opening ceremony was highly anticipated and filled with happiness and emotion.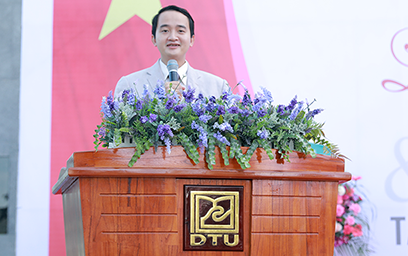 DTU Provost Le Nguyen Bao speaks
DTU Provost Dr Le Nguyen Bao said: "It is no accident that, when asked for the most memorable time in their lives, many will choose their years of study at university. At high school, you follow a preset course and study a common program, with only limited interaction with your peers. At university that all changes, where you learn about a profession to earn a living for yourself. University also shapes your personality and broadens your opportunities to meet with others, from home or abroad, to develop your career and find your place in society."
"After enrolling at DTU, you can be completely confident with your choice. For 25 years now, our university has been endeavoring to bring you the highest quality education programs. Recently, DTU gained ABET science and technology accreditation, the highest level in the world and now ranks third among Vietnamese research universities. Our students have also won several national and international awards and DTU has started attracting more international students. The standard of education and research at DTU is steadily rising and providing a creative and stimulating study environment during the best years of your lives."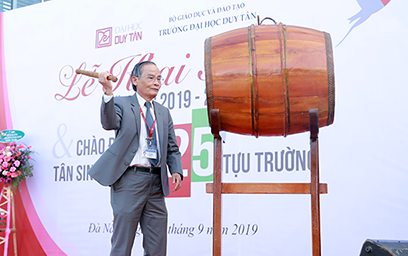 Distinguished Teacher Le Cong Co, DTU President, beats the ceremonial drum to kick off the new academic year
Tran Thu Ha scored 27 in her High School Graduation exam and enrolled in the On-Site Study-Abroad program in Tourism & Hotel Management for an American degree from Troy University. She said, "After reading an article about DTU on the Tony Buoi Sang Facebook page, I investigated the university and was happy to discover the study environment I had been searching and hoping for. So I immediately chose DTU, with its modern facilities, creativity, innovation and international partnerships. I was also very happy to receive a full scholarship and will do my utmost to be worthy of the honor DTU has bestowed on me and the hopes of my family and teachers."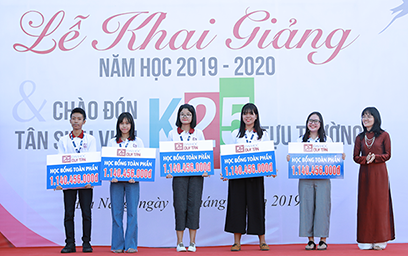 DTU Vice Provost Le Nguyen Tue Hang awards full scholarships to outstanding students
Mr. Frank Mueller of MGM Technology Partners Vietnam came on this special occasion to share his happiness with the students. "When I was offered a job in Vietnam, I hesitated, because I didn't know much about Vietnam, apart from the war long go. However, after much research, I'm here in Vietnam. My work has helped me understand a lot and I find this beautiful country, with its many big dreams, absolutely awesome. Today, I can see many new faces full of enthusiasm for their new journey of study. I also have two sons studying at university and, speaking at today's opening ceremony, I think your parents must be very proud of you. Thirty years after university, after much work and experience, I have some advice for you. Always remain curious, studious and enthusiastic about learning more and more and improving your personal skills. If you do, when you graduate, you will be confident enough to find the job you want the most."
DTU awarded prizes to the leading students in the 2019 High School Graduation exam and full scholarships to students of the On-Site Study-Abroad programs, Talent programs and advanced and international programs. In 2019, DTU welcomes students from Laos, Myanmar, the Philippines, Taiwan and South Korea, who will study here or take part in student exchange programs. At the ceremony, the university gave them presents and wished them well in their studies at DTU.
After the ceremony the students participated in many interesting activities, among colorful booths introducing the university and its faculties. They all sang lively, emotional and happy songs on a lovely autumn morning.
(Media Center)