The 25th Annual Asia Pacific Tourism Association Conference in Danang
The 25th annual Asia-Pacific Tourism Association (APTA) conference was held in Danang from July 1 to 4. The event was hosted by the Asia Pacific Tourism Association and Duy Tan University. Attendees included Hero of Labor and Distinguished Teacher Le Cong Co, DTU President; Mr. Le Tuan Anh, Head of the Department of Personnel and Organisation at the Vietnam National Administration of Tourism (VNAT); Dr. Yeonghyeon Hwang, Chairman of APTA, and more than 200 high-level delegates and board members from 25 Asia-Pacific countries and regions.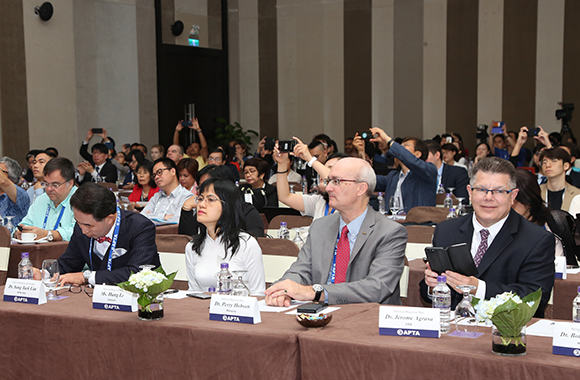 The delegates. Photo: Van Sanh
Dr. Le Nguyen Bao, DTU Provost, stated that APTA was founded in 1995 and this is the second time the APTA conference has been held in Vietnam.
To improve the quality of education at DTU, the university has always focused on conducting research projects and applying them for practical use. In his welcoming speech, Dr. Hwang affirmed: "The aim of APTA is to promote high-quality tourism and hospitality research, especially in Asia-Pacific, to present our achievements and exchange ideas with other academics and their business counterparts, which should be sustainable and valuable. This conference is also a unique opportunity to promote Danang tourism to our members worldwide."
Two hundred papers were submitted at the conference, on interesting topics such as: Factors involved in developing a multi-staged model for sustainable consumer behavior; Cultural differences in experience economies; Three in one: a theory on spiritual development in Danang and Vietnam; Research to improve the hospitality and tourism industry; Sustainable tourism; Ecotourism; Medical tourism; and others.
On the last day of the conference, delegates visited Bana Hills to see the Golden Bridge and enjoy the Sun World Sunshine Dance festival.
(Media Center)