International Conference on Hospitality & Tourism at DTU
On July 2, DTU and the Asia-Pacific Tourism Association (APTA) held the 25th annual conference, with two hundred academics from 25 Asia Pacific countries and regions participating. The objective of APTA 2019 was to promote advanced hospitality and tourism research, especially in Asia-Pacific, by sharing information and ideas on research projects with each other and counterparts in the business community. At the same time, the conference was an excellent opportunity to promote Danang tourism to the rest of the world.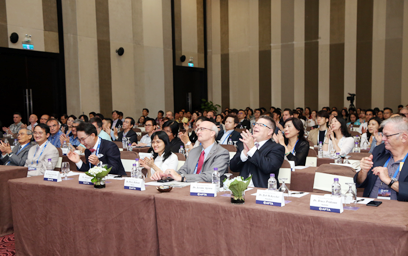 200 international scholars attend the conference. Photo: TT
Two hundred interesting papers in various fields were submitted, including:
•
Destination management;
•
Cultural/Heritage tourism;
•
Restaurant & Food service management
Dr. Yeong-Hyeon Hwang, Chairman of APTA, remarked that he was happy to bring the APTA conference to Danang, a fast-growing and dynamic city, now recognized as the hub of some remarkable tourism attractions.
"The annual APTA conference has established itself as one of the most important hospitality and tourism conferences in the region, with 350 members worldwide. APTA has arranged this special opportunity for delegates to share details of their latest research achievements and exchange ideas." said Dr. Hwang.
Dr. Le Nguyen Bao, DTU Provost, said: "Of interest is that most of DTU's research involves technology and engineering, even though DTU currently has five thousand hospitality and tourism students, which is much higher than the enrollment in other DTU majors. At this conference we will learn about the current activities of leading academics, researchers and industry professionals. Apart from the conference, I hope that you will all continue to collaborate with us when you return to Vietnam in the future."
(Media Center)