A Meeting with the French Embassy
On May 30, Hero of Labor and Distinguished Teacher Le Cong Co, DTU President, and staff welcomed the university coordination team from the French embassy, represented by Mr. Bastien Palermo-Chevillard, University Coordinator, Ms. Mai Thi Nhi, Director of the French Institute in Danang, and others.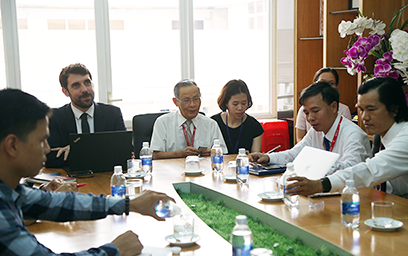 The meeting opens up future partnership opportunities
"France is considered the ideal international study destination, attracting thousands of students each year," explained Mr. Palermo-Chevillard. "In Vietnam, the French Institute has over a hundred training programs, attended by three thousand students each year. We are really happy about that, but believe we can do better to promote these programs. Today's meeting between the French embassy and DTU will enable us listen to each other and get a better understanding our mutual educational requirements to prepare for a potential long-term partnership."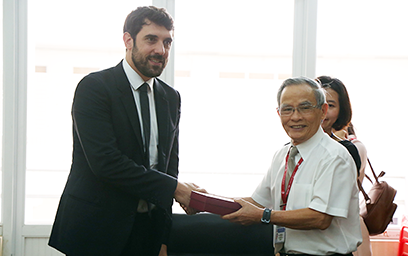 Representatives exchange gifts
Distinguished Teacher Le Cong Co explained that, with its strategic goal of international collaboration, DTU partners with over fifty well-known foreign universities so far, including Carnegie Mellon University, one of the leading IT institutions; Penn State University, specializing in Economics and Business Administration; California State University Fullerton, the largest member of the CSU network; and Cal Poly San Luis Obispo, one of the leaders in Architecture and Engineering education in the US.
DTU also offers several On-Site Study-Abroad programs leading to American degrees, in addition to Overseas Study programs. DTU organizes exchanges with foreign lecturers and students.
Vice Provost, Dr. Nguyen Huu Phu, stressed DTU's wish to collaborate with the French Embassy in educational exchanges, Master's and PhD degree programs, and international environmental and health related research projects.
(Media Center)