An Agreement with Silpakorn University, Thailand
At the invitation of Dr Non Khuncumchoo, Dean of the Faculty of Architecture at Silpakorn University, Bankok, Thailand, Dr Arch. Le Vinh An, Dean of the Faculty of Architecture at DTU, made a work visit to Silpakorn University, a prestigious school in the Thai capital Bangkok, from April 26 to 28, 2019.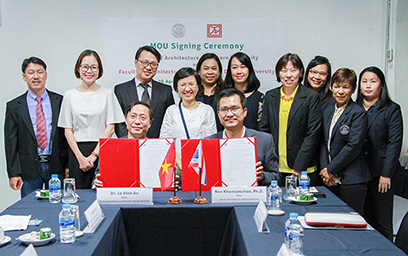 DTU signed a partnership agreement with Silpakorn University, Thailand
During the informal meeting at Silpakorn University, Dr Non Khuncumchoo and Dr Le Vinh An exchanged information about their respective universities, introduced the educational potential of their faculties, and agreed to sign a memorandum of understanding between the two faculties on architecture and arts. The content covers:
-
exchange of lecturers and researchers
-
educational exchange and student exchange
-
coordination to advance joint research projects and international scientific conferences academic exchange, publishing research results
-
several other activities in the framework of the collaboration between the Silpakorn Faculty of Architecture and the DTU Faculty of Architecture.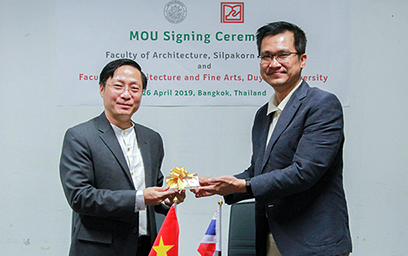 Dr Non Khuncumchoo presenting DTU Faculty of Architecture Dean Dr Arch. Le Vinh An with a souvenir
As such, lecturers and students of both schools will have many opportunities to take part in training and academic exchange in Bangkok, Thailand, and Danang, Vietnam, creating many prospects for mutual scientific research collaboration and academic development. It will also offer students of both schools a chance to exchange useful information about training of necessary skills for their future jobs, exchange study experience and methods to find overseas study scholarships, and improve their professional qualifications.
Silpakorn University is a government-funded university in Bangkok, Thailand. It was founded in 1943 by an Italian art professor named Corrado Feroci, who changed his name to Silpa Bhirasri upon becoming a Thai citizen. It is a leading university in Thailand in architecture, arts (painting, sculpture, and graphic design), and archeology. Seven thousand students are currently enrolled.
For the collaboration program, the two sides will work towards the creation of linked educational programs at graduate, postgraduate, and doctorate level for the majors both sides are similar in strength in, especially Construction Architecture, History of Architecture, and Graphic Design. It will offer students of architecture and arts at DTU and Silpakorn a chance to take part in international internship programs, go on research field trips to famous Thai heritage sites like the Grand Palace, Ayutthaya, and the famous temples that are hundreds of years old, as well as to experience research at Vietnamese world heritage sites like the many remnants at the Hue ancient capital, My Son Holy Land, and Hoi An ancient town.
(Media Center)