The JOOSS Education & Training Support and Human Resources Agreement
On June 10, DTU and JOOSS signed an Education - Training Support and Human Resources Provision agreement to improve the standard of Japanese education at DTU and meet the employment requirements of Japanese companies in Vietnam and Japan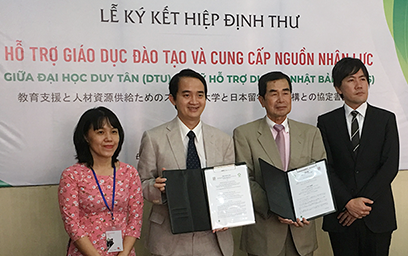 Dr. Le Nguyen Bao, DTU Provost, (second from left) and Mr. Shohei Yabuki - Director of JOOSS Vietnam (second from right)
Sponsored by Nagata Holdings, JOOSS will connect students with Japanese universities where students can study, or help those who wish to improve their Japanese to work for companies in the future. Meanwhile, bilateral cooperation between the two countries is strengthened through educational and cultural activities.
Mr. Shohei Yabuki said: "I am impressed by the significant achievements DTU has earned over the past 25 years of development. Today's signing marks an important milestone in a sustainable partnership. We plan to open a representative office at DTU and conduct several new collaborative programs to broaden study and career opportunities for DTU students."
Japanese language and Internship opportunities in Japan
According to the agreement, JOOSS will support the DTU Learning & Testing Center in teaching Japanese and bring Japanese teachers to DTU LTC. JOOSS will provide Japanese education materials and the essential tools needed for online teaching, such as smart phones, casette players and so on. The JOOSS program will enable DTU students to:
• Learn Japanese free of charge up to the JLPT N4 level.
• Intern in Japan from 3 to 12 months with a JLPT N4 certification.
• Receive full expenses during their stay in Japan.
• Receive a monthly stipend of 60,000 yen.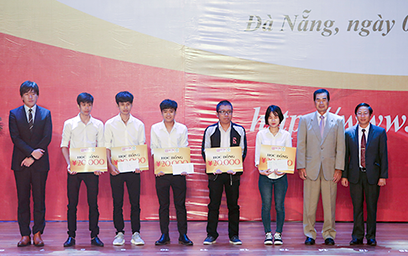 Mr. Shohei Yabuki (second from right) awards scholarships to DTU students
JOOSS will secure career opportunities in Japanese companies for qualified DTU graduates of Nursing, Architecture, Graphics, Construction, IT and Electrical Engineering.
DTU will provide free Japanese courses at levels N5, N4, N3, N2 and N1; select students for the courses; provide Vietnamese lecturers to assist JOOSS staff.
Mr. Vo Thi Phuong Oanh, Acting Director of DTU Learning & Testing Center, said: "The number of Japanese investors in Vietnam and particularly in Danang has risen sharply recently, which increases the need for proficient Japanese graduates. As well as English, Japanese ability will boost full-time career opportunities in Japanese and other companies. Most Japanese language schools only open in the evenings but the DTU Learning & Testing Center offers both daytime and evening classes. In addition, LTC provides the latest information on international internship programs in Japan and recruitment opportunities with Japanese companies."
Program

Tuition fees / semester

Normal program (except for Pharmacology and General Practitioner)

8.8 million

Advanced International program

9.6 million to 12.6 million

Talent program (20% discount for the whole course)

8.8 million

On-Site Study-Abroad program for American Degrees

29.3 million

Study-Abroad program (with USA, UK and Canada)

20 million

Vietnam-Japan collaboration program

10.3 million

*Note: two semesters/year
(Media Center)