The 2019 DTU Jobs Fair, with 5,400 opportunities for local students
On June 7, DTU and the Nguoi Lao Dong newspaper held the thirteenth annual Jobs Fair, with 80 companies offering 5,371 part and full-time positions in various fields. Over the years, the fair has been attended by 850 local companies and received 29,459 job applications for 22,560 positions in total. Its objective is to cement the relationship between the university and local business, and to improve the quality of education and employment opportunities, focusing on current market requirements.
Ribbon cutting ceremony
"The fair is really important, not just for students but also for businesses like us," said Hilton Danang General Manager, Mr. Jesper Bach Larsen. "It is a way to strengthen a sustainable relationship with the university and an opportunity for us to meet students and find the most promising job candidates. The University also organizes regular events to improve business education and train potential employees to meet our company requirements and the community in general. This is what we always appreciate about DTU".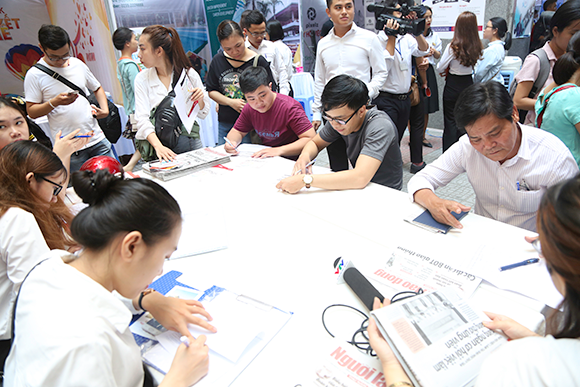 Students apply for jobs at the 2019 Job fair
The 2019 recruitment rates demonstrated the actual current trends in business. IT accounted for 11%, Hospitality 31%, Finance and Banking 9%, Health Science 4% and Trade and Services 30% and the others 7%.
This year, companies received 1,436 student applications, 1,307 of which were submitted by DTU and the 129 by other universities and colleges in Danang. Local companies were able to promote their brand and locate suitable candidates, many students found jobs that matched their abilities and interests, and Heineken Vietnam, the Danang Hilton, the New Orient Danang and B.V.L. Danang interviewed them.
Truong Thi My My, a senior student in Accounting, said: "I am about to graduate and finding a suitable job is of prime importance to me now, as well as many other seniors. Some great jobs in Accounting are available and I have applied for a job as a Teller at Sacombank."
Requiring much preparation, the 2019 Job Fair continues to offer thousands of jobs opportunities to qualified applicants and allows the companies to promote themselves and meet their strategic resource development goals.
(Media Center)