IT and Foreign Languages Play a Vital Role in Hospitality Job Qualifications
On February 22, the DTU Tourism Culture, Multimedia Communications and Literature & Journalism students met with Hospitality and HR companies from around the Danang and Quang nam area. The business leaders responded to questions, including why so many graduates have a hard time finding jobs in Tourism, despite the urgent need for more and more workers in this field.
New ways of replacing verbal explanations with virtual 3D and 4D views
"Communications and PR Hospitality professionals must know how to use and benefit from the latest IoT applications," Mr. Huynh Tan Vinh explained. "Today, users just click on links on smart devices. Programmers in the tourism industry have learned how to improve the ways they communicate with their clients by replacing verbose non-visual explanations with virtual 3D or 4D views. On booking hotels, clients are now able to inspect room layouts and the quality of facilities. Students looking for jobs in Tourism must understand these new I/T techniques which are now used everywhere in software management systems to process, access and update corporate databases."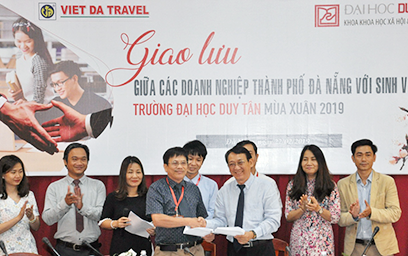 Mr. Huynh Tan Vinh, Chairman of the municipal Travel Association cum General Director of Furama Resort Danang and DTU Vice Provost Dr Nguyen Tan Thang signed the collaboration agreement
What else besides IT?
The city of Danang and local organizations have been investing heavily in the maintenance of historical buildings, such as the Cham Sculpture Museum, the Dien Hai Citadel, churches and communal dwellings to better portray its unique cultural identity to the rest of the world.
Tour guides must be fluent in at least one foreign language. Danang is attracting large numbers of tourists from other Asian countries, from China and South Korea in particular, currently far more than those from Europe or the Americas. Four thousand tour guides are now working with Chinese or Korean tourists here, so perhaps students should be learning these languages in addition to or instead of English?
"I still believe and advise you to learn at least one foreign language, and that should be English," Mr. Huynh Tan Vinh added. "Proficiency in English will help you in your IT work, is useful in many other situations and is the international language. If you can speak a second foreign language, then all the better. If so, you will earn more money in the Tourism profession and others. If not, your future expectations will be limited."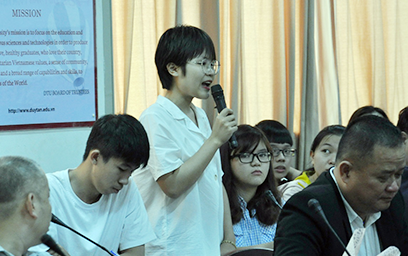 Students presenting their concerns and asking questions
Mr. Le Tan Thanh Tung, a DTU alumnus and now Director General of Vitours Danang summarized his four requirements. First of all, appearance, not just facial beauty and body size, but also a polite and friendly manner. Next are foreign languages, which must include English. Then comes communication skill and finally professionalism. Be clear in what you say, master your profession and be good at what you do. In addition, if you have other skills, in things such as event management or animation, you should find a job easily.
Find jobs on the internet and go for them!
The company representatives advised students to look for opportunities proactively on the internet and elsewhere, instead of waiting for guidance on job vacancies or job offers from the university or employers. All businesses now use the internet and social media to disseminate information.
"Happy Farm JSC Director-General, Mr. Tran Anh Quoc Cuong, agreed that students should be far more aggressive looking for future employment. "You cannot wait passively for something to fall into your lap, for someone to bring an opportunity your way. If you want to succeed, you should launch yourself into the career of your choice and make use of the chances you have in that career. Don't be too hesitant by saying 'this is incompatible with my major and my studies' thing. If you can do the job, have experience and are inspired, accept the job and go for it! You will succeed. Nowadays, studying in one major, working in a second and succeeding in a third is commonplace. What is important is that you are in it full-heartedly."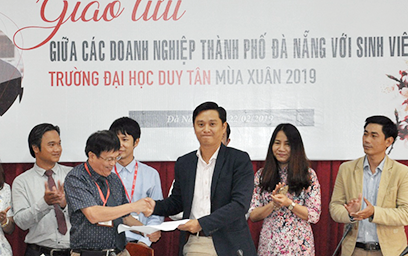 Happy Farm JSC Director-General Mr. Tran Anh Quoc Cuong (right) signs an agreement with DTU
Nothing beats doing something and being good at it
Expanding on how human factors determine individual success depends on the environment, said Mr. Le Vinh Quang, Chairman of the Danang Tourism Transport Union and Phu Hoang-Tien Sa Taxi board member explained. Despite their university education and skills training, the employees themselves must quickly adapt, understand their new work environment and be able to enthusiastically learn new things every day. Most of all, to succeed, they should love what they are doing, no matter what.
Building on their framework of exchange programs, DTU signed agreements from 2019 to 2022 with eight local businesses, the Furama Resort, the Phu Hoang-Tien Sa Taxi Company, Vietda Travel and Media JSC, the Phu Ninh Group, the Coco River Resort in Hoi An, the Tourane Hotel, Happy Farm JSC and Vitours Danang JSC.
DTU promises to provide students with the basic and essential education skills and closely collaborate with local companies in broadening their knowledge through exchanges, practical training and internships. DTU will propose ways of meeting the special employment requirements of each company. Meanwhile, the companies will provide the ideal exchange environment to support Social Sciences and Humanities lecturers and students and also give DTU input on how to tailor education curricula to their needs.
"Based on the success of today's event, we will continue to create more exchange opportunities for students to take part in. The students should meanwhile identify and pay attention to business requirements, refine their attitudes and motivation and ultimately affirm their capabilities to recruiters", explained Dr. Thang.
(Media Center)